Beyond E-Commerce: The Social Case of China's Digital Economy
Haiqing Yu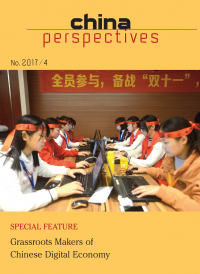 This special feature brings together three original articles on Internet finance, grassroots programmers, and an e-psychotherapy platform, respectively, to engage in the ongoing debate on China's e-commerce and digital economy. The three authors contribute to a rethinking of the Chinese digital capitalism from the perspective of sociology (Nicholas Loubere), anthropology (Ping Sun), and social psychology (Hsuan-Ying Huang). They pinpoint the role of commercial activities as vehicles to highlight human agency and diversity in China's transformations. The three articles—"China's Internet Finance and Tyrannies of Inclusion" by Loubere, "Programming Practices of Chinese Code Farmers" by Sun, and "Therapy Made Easy" by Huang—not only provide empirical studies of particular grassroots players or makers in China's e-commerce and digital economy, but also critically discuss their role and agency in negotiating the complicated network of power and knowledge to create a politics of difference in people's daily lives.
The special feature contributes to the debates on Chinese digital economy from a micro and meso-level analysis that is rooted in the humanities and social sciences. It examines the grassroots participants and makers of China's e-commerce boom, and at the same time moves beyond the discussion on e-commerce to critique the paradoxes of Chinese digital capitalism, as experienced by poor and disadvantaged individuals engulfed by entrepreneurial digital loan sharks and systems of social surveillance (Loubere), the second-generation-migrant grassroots programmers or code farmers in small software companies in Shenzhen (Sun), and an entrepreneurial psychotherapist whose online platform has taken on the mission of constructing a psychotherapy infrastructure for an under-developed profession (Huang). Together the three articles aim to redefine the "who" of digital economy as an unlikely collection of unimagined individuals and underrepresented groups; the "what" of digital economy as measured by its social and cultural impact rather than its volume of business and transaction; and the "how" of digital economy in terms of the implication of and impact on grassroots players in their strategies for survival.
In what follows, I provide a brief review of the emergence of digital economy in China, its incorporation into the state developmental strategy, and the role of digital labour in forming an invisible human infrastructure vis-à-vis the visible digital infrastructure and platforms. Such a discussion, though by no means thorough and comprehensive, provides the backdrop for the discussion of the various paradoxes of Chinese digital capitalism to be addressed in this special feature.
The rise of China's digital economy
It is known that China and digital capitalism are two pillars of global digital capitalism and that "China's digital economy is a global trailblazer" (Schiller 2000).[1] Despite being a latecomer to the new playing field of digital economy and the dominance of the US in global digital capitalism, China is poised to lead in digital productivity and innovation. This is a result of the state-centred approach to economic development and restructuring, with digital media, technology, and telecommunication as the new epicentre of economic growth and market reforms in the 2000s (Zhao 2008; Hong 2017a). Such a techno-economic discourse, particularly since the 2008 global financial crisis, emphasises developing cutting-edge digital technologies, platforms, infrastructure, and economy to ensure China's leadership in emerging technologies such as AI (artificial intelligence), VR (virtual reality), 3D printing, drones, robotics, and driveless cars. As Yu Hong (2017a) argues, the Chinese state plays a key role in fostering a sophisticated communicative ecosystem—a system that has been spearheaded by entrepreneurial bureaucrats, transnational capitalists and their representatives within and outside of China, an outward-looking middle-class, and China's own digital champions. Among the digital champions, BAT (Baidu, Alibaba, and Tencent) and their competitors have been at the forefront of developing a networked digital economy and being close allies to the Chinese government in promoting e-entrepreneurship, e-consumerism, e-surveillance, and e-solutions to various issues and problems through big data, cloud computing, IoT (Internet of Things), and an array of digital computing technologies.
China is among many Asian countries (particularly Singapore, Indonesia, India, and Korea) that have experienced exponential growth, rapid innovation, and broad application of digitised information, knowledge, production, and consumption. Digital economy is characterised by the use of modern information networks and communication technologies, such as the Internet, cloud computing, big data, IoT, and FinTech, to transform social interactions, drive productivity, stimulate innovation, and enable economic activities to be more flexible, agile, creative, and smart. From hardware (e.g. Lenovo and Huawei) to software (AI, cloud computing, various digital payment systems), from content (e.g. Chinese blockbusters and cultural heritage) to platforms (e.g. WeChat and Taobao), Chinese digital economy is not simply on the rise, but is also challenging the "platform imperialism" thesis, which argues that Western-based digital platform empires (such as Facebook, Google, and Amazon) will continue to dominate the global digital platform markets, despite increasing competition from emerging companies and countercultural flow from non-Western countries in the twenty-first century (Jin 2015). In fact, China has not only been integrated into the global digital capitalism, but is also transforming itself from a downstream manufacturing powerhouse into an innovative nation, with the Internet and digital technologies powering such a transformation and economic restructuring.
In China the digital economy has surged since 2015 to a 30.61% share of the nation's 2016 GDP.[2] It is poised to "set the world's digital frontier" and become a leading global force in key digital areas.[3] As discussed above, the digital economy is seen by Chinese political and business leaders as a critical lever for economic restructuring that steers the country from a low-wage assembly model dependent on foreign technology to an innovative nation with the "created in China" brand (Hong 2017b; Keane 2007). It exemplifies a state-centred approach to digital capitalism. This approach has always characterised economic development in China. More recently we have witnessed the role of the government in laying out China's digital future through the "Internet Plus" strategy and "mass entrepreneurship and mass innovation" blueprint, which were proposed by Chinese Premier Li Keqiang and written into the government report in 2015. Previous Five Year Plans prioritised infrastructure and technological innovation, with a focus on hardware and network construction, which required expertise and capital through state-funded institutions and projects. The 13th Five Year Plan (2016-2020) moves the agenda in a new direction: to "upgrade" (shengji 升级) China's creative economy and innovative capacity from below through "collaborative innovation." Such a collaborative approach in the "Internet Plus" strategy is essentially a Chinese rendition of digital capitalism or the economy of tomorrow in the "third industrial revolution," with key movers and shakers (such as BAT—Baidu, Alibaba, and Tencent) working closely with the government and mobilising grassroots talents to realise the "China rise" dream (Rifkin 2011).[4]
There is a sense of urgency in China's aspiration to be the world's leader in the digital economy. A nationalistic discourse has characterised such a drive to lead: the mainstream discourse holds that China missed the best opportunities in the first and second industrial revolutions; it must seize the current digital opportunity and lead the third revolution to realise the Chinese Dream, that is the dream of national rejuvenation (Yu 2009). Such a grant strategy cannot be implemented without the help of China's own digital champions, who have gained portfolios that are increasingly similar to those of their Western counterparts as they become more deeply entangled with transnational capital and the Chinese government for continual growth and expansion. This symbiotic relationship between digital platforms and the national government and national agenda is central to Chinese digital economy. This has been a central tenant in numerous publications and reports on China's digital capitalism.
As movers and shakers of Chinese digital economy, BAT and others have been building their digital business empires in a few key proxy warzones, such as e-literature, e-video production and streaming,[5] and e-commerce. China's rise as the world's largest e-commerce market with the largest e-payment transaction volume is almost a truism. And it seems that China has become the world's largest e-commerce market almost overnight. The country has witnessed a powerful shift since 2008 away from buying and selling at traditional brick-and-mortar stores to C2C (customer to customer), B2C (business to customer), B2B (business to business), and O2O (online to offline) e-commerce and social commerce, driven by the diffusion of broadband and smartphone adoption in the country. The record-breaking IPO of China's leading e-commerce giant Alibaba on the New York Stock Exchange in 2014 is a recognition of the coming of age of the world's largest e-commerce market. China's e-commerce market is huge and diversified. China has gone "cashless" with the prevalence of mobile e-payment platforms (Alipay and WeChat Pay) in everyday life. It is home to the world's largest and most prolific online shoppers and retailers, and the e-commerce trade has soared and remained resilient despite an economic slowdown. As online sales and shopping continue to grow—not only among the middle and upper middle class and affluent households in metropolitan centres but also among hundreds of millions of people in less-developed areas (small cities, towns, and villages), scholarship on China's e-commerce miracle also increases, with a focus on big players, market and consumer analysis, and structural and legal issues, often from disciplines in various business and law schools.
Existing scholarship on China's digital economy and e-commerce has noted the phenomenal success of BAT, their competitors, and a number of digital start-ups; it has examined the radical disruptions brought by the innovative use of technologies by the so-called born-digital and grown-digital firms represented by Yihaodian and Suning, respectively (e.g. Leong, Pan, and Liu 2016). This body of research is underpinned by a strong faith in the role of ICTs (information and communication technologies) toward community empowerment and social innovation, in urban as well as rural Taobao villages (Yue et al. 2015; Sitoh, Pan, and Cui 2014). China's Taobao villages exemplify the community-driven approach in ICT-enabled development. The rural e-commerce ecosystem—from e-retailers, e-supply chain partners, and third-party e-commerce service providers, to institutional supporters—has developed from the bottom up via individual and grassroots initiatives.
The economic case and political economy analysis of China's digital economy have focused on a macro analysis of the state developmental strategy, the role of digital champions and their relation with the state, and the need for entrepreneurship. The year of 2015 is recognised as the year of Chinese digital economy, not only in Li Keqiang's government report but also in his high-profile visits to makerspaces in Shenzhen (Chaihuo Makerspace) and Beijing (3W Coffee). The emphasis on entrepreneurship and innovation is not only seen in the government report with the call for "mass entrepreneurship and mass innovation," but also epitomised in Li's visits, which have given a positive spin to the activities and products of digital entrepreneurs.
Digital entrepreneurship is regarded as a key bottom-up driving force in China's e-commerce boom and underpins Chinese digital economy. It is argued that even small players such as villagers can be agents of change through their entrepreneurial practices (Leong et al. 2016). From rural Taobao villagers to transnational luxury goods resellers (daigou 代购) and grassroots fashion designers, entrepreneurial individual users, sellers, and producers of e-commerce products, services, and platforms are regarded as the key players in bridging the digital gap between the urban and rural areas and between the information haves and information have-less (Cui and Pan 2016). Their involvement in e-commerce and digital economy can be empowering for some, while at the same time reproducing rather than reducing power hierarchies through human differentials in gender and class (Zhang 2017; Liao 2017). In the mainstream discourse, the emphasis on digital entrepreneurship is premised on the promise of digital inclusion. It is based on the assumption that inclusion in the digital economy is inherently beneficial. Often the hype in popular and many academic writings on grassroots initiatives of innovation and entrepreneurship is centred on three promises: empowerment, freedom, and shared prosperity.
This is represented by the latest report on disability in the e-era issued by Aliresearch.[6] The report gives disability a positive spin in corporate social responsibility for inclusive growth and inclusive prosperity. It finds that 160,000 e-stores are run by e-sellers with disabilities on the Taobao retail platform, with a total annual transaction volume of RMB 12.4 billion, including 16,000 e-stores run by people with visual impairments. Thousands of people with disabilities have been trained and employed in Taobao call centres to provide customer service, which can be conducted from home. In addition, each year 2.46 million buyers with disabilities spend RMB 22.1 billion in online transactions. The promise of digital empowerment and freedom through e-commerce and bottom-up development underpins the report and its impressive statistics. This digital inclusion narrative, like the mainstream discourse on financial inclusion discussed in Loubere's article, comes from a neoliberal perspective on the relationship between digital economy and individual responsibility.
The promise of economic opportunities and empowerment and the emphasis on individual entrepreneurship and innovation may sound very neoliberal. But China's unique political structure, ideology, and culture betray the fundamental principles in the economic case of China's digital economy. As Donald Nonini (2008) points out, China's commitments to the three baseline principles of neoliberalism (private property rights, free markets, and free trade) are limited, contingent, and reversible; its support for market competition, entrepreneurship, and consumer choice is conditioned on the latter's commitment to the Chinese Dream and the Communist Party leadership. The belief in and claim of Internet Plus and digital entrepreneurship as effective ways to reduce poverty (poverty alleviation by 2020) and boost shared prosperity (achieving overall moderate prosperity by 2020)—both set as national goals by the Party—are championed and supported by the government's corporate partners (BAT and other digital players). The emphasis is on instrumental rationality in the construction of digital infrastructure (broadband, Internet, digital platforms, hardware, software, and programs), but less on the "invisible human infrastructure" (Oregalia 2013, p. 24), including digital labour. Such is the social case of digital economy that this special feature takes to task.
The social case
China's e-commerce miracle and fast growth of digital economy rest not only on the shoulders of big players such as BAT and a string of other established companies. They also rely on a multitude of smaller players and individuals, such as grassroots programmers, Taobao e-tailers and resellers, and e-entrepreneurs in microfinance, programming, and psychotherapy. The smaller and less glorified players are often overshadowed and pushed to the background by bandwagon leaders; and their roles and dilemmas are often overlooked in the macro analysis of China's digital economy. They form the invisible human infrastructure that sustains the operation and optimisation of the digital infrastructure. They are the digital labour that epitomises the promise and pitfall of digital capitalism.
The liberalisation of digital economy has seen the expansion of entrepreneurial digital loan sharks, small IT (information technology) and software companies, and e-commerce start-ups. Digital labour forms the new frontier of iCapitalist innovation and exploitation, within and between nation-states along such division lines as class, wealth, and culture. Digital labour "encompasses the whole mode of digital production, a network of agricultural, industrial and informational labor that enables the existence and use of digital media" (Fuchs 2016, p. 20). It takes the form of "wage labor, slave labor, unpaid labor, precarious labor, and freelance labor" (ibid). Under the banner of Internet Plus, Chinese manufacturing centres and manufacturing labour are undergoing structural transformation by adopting the knowledge and creative economy model to become innovation centres, start-up incubators, and digital labour.[7]
China is at the vanguard of digital innovation, with its booming e-commerce, e-payment and Internet finance platforms, innovation centres, start-up incubators, digital labs, and various maker spaces. Many digital innovations are developed not within organisations, but in innovation-driven entrepreneurial ecosystems (such as Zhongguangcun, known as China's Silicon Valley), where various entrepreneurship-related stakeholders compete and collaborate with one another (Li, Du, and Yin 2017). The emphasis on digital entrepreneurship, as pointed out earlier, belies its political context and is conditioned on the commitment to the Chinese Dream and the Party leadership. It is in line with the mainstream discourse that overstates and overestimates Chinese people's entrepreneurial spirit in China's e-commerce boom. Rather, it is largely the result of government intervention and regulation that set the agenda and direction, as it did in the 1980s and 1990s when banks and credit cooperatives were ordered to funnel investment into state-owned enterprises and township and village enterprises. Underpinning this mainstream discourse is the imperative for economic restructuring and solving its concurrent unemployment problems. In the 1990s, when tens of millions of workers were laid off from state-own enterprises in the large-scale privatisation process, the state endorsed microcredit programmes to help laid-off workers find employment opportunities through entrepreneurial activities (Loubere 2016). Similarly, in the current economic restructuring from manufacturing-based industries to digital economy, new mechanisms have been used to encourage young people to engage in e-entrepreneurial activities through e-commerce, maker movements, and start-ups.
As Nicholas Loubere argues in this special feature, "Key to this renegotiation of the provision of employment and welfare in contemporary China is a neoliberal pushing-off of responsibility from the state to the mythical individual entrepreneur." Under this logic, people are responsible for their own success and entrepreneurial outcomes; the state and its corporate partners are responsible for providing digital entrepreneurial opportunities. Echoing the argument of Bateman (2015), Loubere argues that the discourse of entrepreneurialism "serves to relocate the locus of developmental responsibility to the poor themselves, thereby de-linking the condition of marginality from its historical and contextual roots." The focus on self-sufficiency (e.g. through the suzhi 素质discourse) and rationality in decision-making creates a new type of tyranny and fallacy: the freedom to engage in entrepreneurial and consumer activities within the seemingly neoliberal economic system is at the cost of other types of freedom, including freedom of speech and freedom from digital inclusion.
In this special feature, Nicholas Loubere presents a powerful critique of the discourse on "digital empowerment through digital inclusion" and points to the potential dark sides of digital innovation—the discontents and tyrannies that have arisen from the rapid expansion of digital financial inclusion in China. He argues that digital financial inclusion can be seen as a key element in a wider project of expanding surveillance through big data, cloud computing; it reproduces patterns of inequality and exploitation; and it closes down spaces for social resistance or any subversive move to contest the hegemonic socioeconomic order. This is because the digital infrastructure is not controlled by the lower and middle classes but by the state and power economic actors, whose capacity for social control is strengthened by digital technologies and digital economy. For the majority of the population, digital empowerment is one-dimensional, as new forms of disempowerment and inequality are produced and reproduced to continue the unequal and exploitative development relations. The social credit system, spearheaded by Sesame Credit of Ant Financial (part of the Alibaba Group), for example, has empowered the state and its corporate partners with an unprecedented Panoptican surveillance and control of the Chinese society.
The social case presented by Loubere continues the political-economy critique of China's "new normal" (xin changtai 新常态).[8] Yuezhi Zhao has led the charge at the hegemony of the power-money-intellect iron triangle that dominates China's digital economy (Zhao 2008). The "new normal" of the digital economy has strengthened the public-private alliance in constructing a "healthy" and "civilised" Internet, that is, a sanitised and pacified online environment in China (Lagerkvist 2011). This alliance has enabled ICT entrepreneurs to continue to profit from the power-money alliance, and it has helped reduce the government's need for the use of coercion and centralised guardianship as a means of control. In other words, by being willingly co-opted and folded into the power-money alliance, the private business sector is able to strike a balance between the political imperative and market imperative. This alliance allows ICT entrepreneurs to meet the political priorities of social responsibility while pursuing a more lucrative route.
The social case of the digital economy calls attention to the disadvantaged and disenfranchised, such as migrant workers, farmers, disabled persons, women, and ethnic minorities. It calls attention to the crisis of digital capitalism and the plight of precarious digital labour. Ping Sun's article in this special feature explores the digital experience of Chinese grassroots programmers (manong 码农) in small IT companies. It examines the inseparable relations of programmers, technology, and social institutions in order to understand technology through the prism of socio-political and socioeconomic analysis. Sun's manong subjects are the second generation of migrant workers. Unlike their parents' generation, who are factory workers on the assembly lines, the second generation both choose to do software programming and are chosen for it due to the necessity to make a living (as a means of survival) in the cities where they grow up but struggle to fit in. Like all young people, the second generation of migrant workers aspire for social mobility and digital enablement. Software programming is one of very few opportunities for rural youth to earn enough money to support their rural families and gain social mobility, as it offers better payment and opportunities to start one's own business in the future. For these dreams, the grassroots programmers seize opportunities such as various start-up weekends, hackathons, pitch contests, and co-working programs to upscale their skills, market their ideas, and attract collaborators and investors.
Their sense of insecurity and their precariousness and marginalisation as grassroots digital labour are exacerbated by their very embeddedness and involuntary inclusion in the global digital economy. Sun notes that grassroots programmers address each other by their English names as a sign of their improved quality. However, this is betrayed by the language they use in coding: English. Sun posits that language acts as a social structure that controls how the codes and programs are created and processed; it also sets the boundary and reaffirms the digital hierarchy that governs the global digital economy, with Chinese programmers at the bottom of the labour division pyramid. She writes, "As a latecomer to the digital economy, China, and Chinese programmers, struggle within a technical assemblage that has been well established by Western countries." The struggle to establish their own coding system in the global programming system is part and parcel of China's efforts to establish a new telecommunication and economic order led by China. In the discourse of "China's rise" (as it is known in the West) or the "Chinese Dream" (as it is known in China), China's lower social classes have been suppressed and pacified at times to serve as the educated reserve army of cheap labour. At other times, they are also encouraged to be the reserve army of smart consumers and digital entrepreneurs that help spin the wheel of digital capitalism.
Engagement with digital technology has opened up new spaces for economic enhancement. It helps the disadvantaged and disenfranchised to transcend technical and professional barriers, as well as social class and division of labour, through collaboration and co-operatives. It can be a process of community-building and subjectivity-remaking through the maker movement, as young programmers and entrepreneurs explore news ideas and cash in on funding opportunities. This is not only witnessed among grassroots programmers but also among the urban middle class, as represented by Hsuan-Ying Huang's research subject in this special feature, Li Zhen, who is a popular psychotherapist, Internet personality, and "infrastructure entrepreneur."
Huang's article examines a start-up company and e-commerce platform in psychotherapy called "easy psychology" (jiandan xinli 简单心理). Its founder, Li Zhen, turned her fame as an Internet personality on Douban (a Chinese social media website) into an e-enterprise that aims to build an infrastructure in the nascent field of psychotherapy in China. The infrastructure encompasses technologies, objects, actors, concepts, and their various combinations. Huang's article delineates Li's journey from setting up an e-commerce platform in psychotherapy in 2015 to her transformation into an infrastructure entrepreneur, and how the e-platform functions as a surrogate professional association and leader in the field of psychotherapy in China. Jiandan xinli is a business that has taken the construction of infrastructure as its primary mission. It plays a bridging role between practitioners and clients; the official governing body and the under-developed field of psychotherapy; Chinese and Western standards in psychotherapy; and social media and the start-up ecosystem.
Huang's article demonstrates that bottom-up initiatives (and entrepreneurship) can offer creative alternatives to social problems. It also suggests the limits and uncertainty of the grassroots and their "untamed realm" (jianghu 江湖), as they are conditioned by the existing and emerging digital infrastructure and legal framework, or their lack of such support. Furthermore, the digital capitalist market cashes in on the state's Internet Plus strategy and exploits the less fortunate, exemplified by crash courses in psychotherapy training during the psycho boom for the wanna-be practitioners of psychotherapy, or crash courses for software programmers (see Sun's article).
Together, these three papers in this special feature present three perspectives on the social case of China's digital economy. There are of course many other aspects that can be explored in the field. As already reviewed in this editorial, existing research on China's digital economy (and e-commerce in particular) has provided a macro analysis of its role in China's economic restructuring (from a manufacturing and labour-intensive structure to a knowledge and creative economy), as well as a meso-level analysis of its role in community empowerment and social innovation. There have emerged a number of publications in English from disciplines in the humanities and social sciences in recent years on the social impact of digital economy, particularly on individuals, such as rural villagers and women (e.g. Wallis 2015; Oregalia 2013). This collection of three original articles contributes to critical enquiries into and engagements with the social case of China's digital capitalism.
Beyond e-commerce
This special feature calls for a paradigmatic shift from the "big guys" and the glamorous to smaller players and makers, the mundane and even dubious figures and features of China's e-commerce miracle; from a focus on institutions, policies, processes, and efficiency to human agency, social impact, and the power structure. It seeks to develop a greater understanding of the social and cultural implications of digital economy on people of diversified backgrounds in relation to the development, management, use, and appropriation of digital communication and information technologies for economic and social participation and empowerment. This editorial moves beyond the discussion on e-commerce to examine some of the key issues in China's digital capitalism that form the backdrop of the three articles included in the special feature, including an analysis of the rise of China's digital economy and its political economy. It has touched upon some issues and concepts that deserve further notice, such as the concept of digital jianghu and digital labour.
In the jianghu of digital culture and economy, there co-exist the good, the bad, and the ugly.[9] The jianghu metaphor has been used in accounts and publications from individual Internet users, Internet companies, media, and academia. "The Internet is Rivers and Lakes" with "gusty winds and clouds," as well as heroes and villains—just like the jianghu of contemporary Chinese society where new orders are being established to replace the dying old ones, where little brothers and sisters must take control of their own fate and fend for themselves against social ills and injustice in a lawless world (Yang 2009, p. 174-75). Jianghu is an imaginative space of the alternative, subaltern, and counter publics, where knights-errant, outlaws, and figures like Robin Hood or Ned Kelly roam. The image of jianghu bespeaks a second world "away the established social and political order," and "a world of adventure, freedom, transgression, and divine justice, but also a world of betrayal, intrigue, and evil" (Yang 2009, p. 173).
The Internet jianghu is the birthplace of Chinese grassroots entrepreneurship (Yu 2017). Almost all major players in China's digital economy, including BAT, are pioneers in the computer-mediated communication and cyber businesses. Many of the pioneers have continued to face the "gusty winds and clouds" of not just the Chinese but also global jianghu of digital capitalism. China's cyber business prowess, which is supported by the state and buttressed by the ICT and e-business section, works to shift the tension between China's aspiration to lead and its actual position in the hierarchical structure of global jianghu of digital capitalism (Hong 2017b). China tries to upscale in the global hierarchy of digital capitalism from an offshore manufacturing centre to a digital production centre. While it manages to create change in the hierarchical structure of global digital capitalism, it also tries to manage the drives for change from within its own digital capitalism. The jianghu metaphor of digital capitalism helps to shift the tension between the state and society to that between capital and labour, and to continue to "offload the majority of socioeconomic costs to Chinese labor" (Hong 2017b, p. 1500).
The precariousness and marginalisation of Chinese labour, particularly digital labour, is another theme that has haunted numerous writings from the Marxist tradition. As Loubere points out in his article, involuntary digital inclusion reproduces inequality and exploitation. This exploitative relationship can be seen in Chinese grassroots programmers' involuntary participation in China's digital revolution and their role in the international division of digital labour. As code farmers, they are the "cybertariat" (Huws 2015) or "cyber-proletariat" (Dyer-Witheford 2015). Both concepts invoke the notions of class and class struggle and the conflicts between labour and capital. Similarly, Jack Qiu's concept of iSlaves—composed of manufacturing iSlaves (Foxconn factory workers) and manufactured iSlaves (digital consumers and their immaterial labour)—invokes the concept of dominance and resistance. It explores the pitfalls of digital media production and consumption (such as digital surveillance, value extraction, and exploitation) and makes a passionate inquiry into alternatives and possibilities for a collective voice and solidarity at the grassroots level. Several ideas have been proposed in hopes for grassroots empowerment and solidarity of the digital labour, such as WGC (worker-generated content) and platform co-ops (Qiu 2016; Sholz 2017). Two key questions are: how can grassroots alternatives avoid being absorbed into the structure and system of digital capitalism; and what should the leadership look like in such grassroots movements for empowerment, freedom, and shared prosperity? I hope these questions will open up debates on the social case of China's digital economy.
Haiqing Yu is Associate Professor of Chinese media and culture at the University of New South Wales, Sydney, Australia.
UNSW Kensington campus, High Street, Kensington NSW Australia 2052 (h.yu@unsw.edu.au).
[1] Also see: John Thornhill, "China's Digital Economy is a Global Trailblazer," Financial Times, 21 March 2017, https://www.ft.com/content/86cbda82-0d55-11e7-b030-768954394623?mhq5j=e7 (accessed on 28 October 2017).
[2] "Top 10 Provincial Regions in Digital Economy," China Daily, 8 May 2017, http://www.chinadaily.com.cn/bizchina/2017top10/2017-05/08/content_29241255.htm (accessed on 29 September 2017).
[3] Jonathan Woetzel et al., "China's Digital Economy: A Leading Global Force," McKinsey Report, August 2017, https://www.mckinsey.com/global-themes/china/chinas-digital-economy-a-leading-global-force (accessed on 15 September 2017).
[4] Also see: Elena Holodny, "Jeremy Rifkin Interview," Business Insider, 17 July 2017, https://www.businessinsider.com.au/jeremy-rifkin-interview-2017-6?r=US&IR=T (accessed on 10 August 2017). Jianfei Lin and Yibu Jing, "The Power of the Nation-State in the Internet+," Southern Weekly, 17 October 2017, http://www.infzm.com/content/129757 (accessed on 28 October 2017).
[5] "Chinese Video Giants are Becoming Production Powerhouses," Technode, 13 October 2017, http://technode.com/2017/10/13/chinese-video-giant-production-powerhouses/ (accessed on 14 October 2017).
[6] Aliresearch, "Wangluo shidai zhucan: puhui yu chuangfu" (E-era assists disability: inclusive development and wealth creation), 18 May 2017, http://i.aliresearch.com/img/20170518/20170518103747.pdf (accessed on 20 May 2017).
[7] This is based on fieldwork observation and interviews with various social entrepreneurs and digital startups in November 2017, in Beijing, Shanghai, Shenzhen, Dongguan, and Guangzhou.
[8] China's "new normal" is used by President Xi Jinping to refer to a new stage of development with a slower but more sustainable and diversified growth. See Angang Hu, "Embracing China's 'New Normal': Why the Economy Is Still on Track," Foreign Affairs, May/June 2015, https://www.foreignaffairs.com/articles/china/2015-04-20/embracing-chinas-new-normal (accessed on 15 November 2017).
[9] Michael Keane, "Culture and Technology: The Good, the Bad, and the Ugly," talk given at Zhejiang University, Hangzhou, 17 November 2017.
References 
BATEMAN, Milford. 2015. "Introduction." Forum for Social Economics: 1-20. https://doi.org/10.1080/07360932.2015.1056201.
CUI, Lili, and Shan L. PAN. 2016. Nongcui dianshang xin shengtai: hulianwang dailai de jiyu yu tiaozhan (New rural e-commerce ecosystem: Opportunities and challenges of the Internet). Beijing: Dianzi gongye chubanshe.
DYER-WITHEFORD, Nick. 2015. Cyber-Proletariat: Global Labour in the Digital Vortex. London: Pluto Press.
FUCHS, Christian. 2016. "Digital Labor and Imperialism." Monthly Review 67(8): 14-24.
HONG, Yu. 2017a. Networking China: The Digital Transformation of the Chinese Economy. Urbana, Chicago and Springfield: University of Illinois Press.
HONG, Yu. 2017b. "Pivot to Internet Plus: Molding China's Digital Economy for Economic Restructuring?" International Journal of Communication 11: 1486-1506.
HUWS, Ursula. 2015. "iCapitalism and the Cybertariat: Contradictions of the Digital Economy." Monthly Review 66(8): 42-57.
JIN, Dal Yong. 2015. Digital Platforms, Imperialism and Political Culture. London: Routledge.
KEANE, Michael. 2007. Created in China: The Great New Leap Forward. London and New York: Routledge.
LAGERKVIST, Johan. 2011. "New Media Entrepreneurs in China: Allies of the Party-State or Civil Society?" Journal of International Affairs 65(1): 169-182.
LEONG, Carmen, Shan-Lin PAN, Sue NEWELL, and Lili CUI. 2016. "The Emergence of Self-organizing e-Commerce Ecosystems in Remote Villages of China: A Tale of Digital Empowerment for Rural Development." MIS Quarterly 40(2): 475-484.
LEONG, Carmen, Shan-Lin PAN, Jie LIU. 2016. "Digital Entrepreneurship of Born Digital and Grown Digital Firms: Comparing the Effectuation Process of Yihaodian and Suning." Paper presented at the ICIS 2016 conference on "IS Strategy, Governance, and Sourcing" http://aisel.aisnet.org/icis2016/ISStrategy/Presentations/16/ (accessed on 30 October 2017).
LI, Wenjie, Wenyu DU, and Jiamin YIN. 2017. "Digital Entrepreneurship Ecosystem as a New Form of Organizing: The Case of Zhongguancun." Frontiers of Business Research in China 11(5). DOI 10.1186/s11782-017-0004-8. https://link.springer.com/content/pdf/10.1186%2Fs11782-017-0004-8.pdf (accessed on 30 October 2017).
LIAO, Sara. 2017. "Fashioning China: Precarious Creativity of Women Designers in Shanzhai Culture." Communication, Culture & Critique 10(3): 422-440.
LOUBERE, Nicholas. 2016. "Indebted to Development: Microcredit as (De)marginalisation in Rural China." Journal of Peasant Studies. https://doi.org/10.1080/03066150.2016.1236025.
NONINI, Donald. 2008. "Is China Becoming Neo-Liberal?" Critique of Anthropology 28: 145-76.
QIU, Jack Lingchuan. 2016. Goodbye iSlave: A Manifesto for Digital Abolition. Urbana IL: University of Illinois Press.
OREGLIA, Elisa. 2013. "From Farm to Farmville: Adoption of ICT in Rural China." PhD dissertation, UC Berkeley.
RIFKIN, Jeremy. 2011. The Third Industrial Revolution. New York: Palgrave Macmillan.
ROSSITER, Ned. 2006. Organized Networks: Media Theory, Creative Labour, New Institutions. Amsterdam: Institute of Network Cultures.
SCHILLER, Dan. 2000. Digital Capitalism: Networking the Global Market System. Cambridge, MA: MIT Press.
SCHOLZ, Trebor. 2017. Uberworked and Underpaid: How Workers Are Disrupting the Digital Economy. Cambridge: Polity Press.
SITOH, Mun Kiat, Shan L. PAN, and Lili CUI. 2014. "The Roles of Opportunity Processes in a Social Business Model: Insights from China's e-Commerce Villages." Proceedings of the International Conference on Information Systems (ICIS 2014), Auckland New Zealand, 14-17 December. http://aisel.aisnet.org/icis2014/proceedings/EBusiness/1/ (accessed on 20 July 2016).
WALLIS, Cara. 2015. "Micro-Entrepreneurship, New Media Technologies, and the Reproduction and Reconfiguration of Gender in Rural China." Chinese Journal of Communication 8(1): 1-17.
YANG, Guobin. 2009. Power of the Internet in China: Citizen Activism Online. New York: Columbia University Press.
YU, Haiqing. 2017. "Social Imaginaries of the Internet in China." In Gerard Goggin and Mark McLelland (eds.), Routledge Companion to Global Internet Histories. London and New York: Routledge. 244-255.
YU, Haiqing. 2009. Media and Cultural Transformation in China. London and New York: Routledge.
YUE, Lin, Shan L. PAN, Barney TAN, and Lili CUI. 2015. "Digitally Enabled Social Innovation: A Case Study of Community Empowerment in Rural China." Proceedings of the International Conference on Information Systems (ICIS 2015), Fort Worth, USA, 13-15 December. https://pdfs.semanticscholar.org/fbac/3e4f99af0571154b555cb4b7318cbb106415.pdf (accessed on 22 July 2016).
ZHANG, Lin. 2017. "Fashioning the Feminine Self in 'Prosumer Capitalism': Women's Work and the Transnational Reselling of Western Luxury Online." Journal of Consumer Culture 17(2): 187-204.
ZHAO, Yuezhi. 2008. Communication in China: Political Economy, Power, and Conflict. Lanham, MD: Rowman & Littlefield.