China Perspectives 2018/3
SPECIAL FEATURE
Twenty Years After: Hong Kong's Changes and Challenges under China's Rule
Buy this issue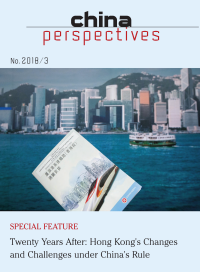 Special Feature
Editorial – Twenty Years After the Handover: Hong Kong's Political and Social Transformation and Its Future under China's Rule
Page 3
Changing Political Economy of the Hong Kong Media
Page 9
ABSTRACT: Most observers argued that press freedom in Hong Kong has been declining continually over the past 15 years. This article examines the problem of press freedom from the perspective of the political economy of the media. According to conventional understanding, the Chinese government has exerted indirect influence over the Hong Kong media through co-opting media owners, most of whom were entrepreneurs with ample business interests in the mainland. At the same time, there were internal tensions within the political economic system. The latter opened up a space of resistance for media practitioners and thus helped the media system as a whole to maintain a degree of relative autonomy from the power centre. However, into the 2010s, the media landscape has undergone several significant changes, especially the worsening media business environment and the growth of digital media technologies. These changes have affected the cost-benefit calculations of media ownership and led to the entrance of Chinese capital into the Hong Kong media scene. The digital media arena is also facing the challenge of intrusion by the state.
KEYWORDS: press freedom, political economy, self-censorship, digital media, media business, Hong Kong.
Download this PDF
Explaining Localism in Post-handover Hong Kong: An Eventful Approach
Page 19
ABSTRACT: The pro-democracy movement in post-handover Hong Kong had long been an intense struggle between the hybrid regime and prodemocracy civil society. Since the early 2010s, a new political force, broadly known as the localists, has entered the political domain through a series of protest events and elections. However, just as they gained a foothold in politics, the hybrid regime swiftly moved in to clamp down on the nascent movement to keep them out of the political system. What explains the ebbs and flows of Hong Kong's localist movement? This essay posits that localism is not an inevitable product of the macro-structural socio-political process, but an amalgam of ideas and action logics assembled sequentially through events and discursive constructions. We argue that localism first emerged through the interplay between antimainlandisation protests and both online and intellectual discourse, and officially ascended to the political stage after the Umbrella Movement. Despite their meteoric rise, localists' militant actions have allowed the hybrid regime to marginalise the nascent force through legal and non-legal repression, which has in turn created a "divided structure of contestation" among the opposition.
KEYWORDS: localism, Hong Kong, democratisation, China, protests, hybrid regime, civil society.
Access to this article is restricted to subscribers to China Perspectives.
Register here
Sign in
Add to cart
The Housing Boom and the Rise of Localism in Hong Kong: Evidence from the Legislative Council Election in 2016
Page 31
ABSTRACT: Localist parties have become an emerging force in Hong Kong's political landscape. What has caused the rise of localism in the city? Extant studies focus on cultural and social factors. In this article, we propose a political economy explanation: global and regional economic factors have caused a housing boom in Hong Kong since the mid-2000s and produced impactful redistributive consequences. While homeowners benefit tremendously from the hike in asset prices, non-homeowners stand to lose. Their divergent economic interests then translate into political preferences; homeowners support political parties that favour the status quo, while non-homeowners tend to support those that challenge it. Using a newly available public opinion survey, we find preliminary evidence in support of our argument. In particular, homeowners are less likely to identify with localist parties and tend to vote for pro-establishment ones. High-income earners, however, are more likely to vote for localist parties.
KEYWORDS: localism, wealth inequality, home ownership, Hong Kong elections, political identification, vote choice.
Access to this article is restricted to subscribers to China Perspectives.
Register here
Sign in
Add to cart
Disarticulation between Civic Values and Nationalism: Mapping Chinese State Nationalism in Post-handover Hong Kong
Page 41
ABSTRACT: Drawing upon the ethnic-civic dialogue of nationalism, this article shows how Chinese state nationalism disarticulates from the civic values of Hong Kong in the post-handover years. Surveys from 2010 to 2016 in general reveal a dwindling pride in Chinese state nationalism in Hong Kong, and its disarticulation from the treasured values of civic rights and qualities in the city. As seen in this study, Hong Kong Chinese articulation of nationalism in the form of Chinese ethnic icons shrank throughout the study period. The same study also shows that neither civic values nor cultural pride in Hong Kong are conducive to the building of Chinese state nationalism, nor are they a significant impetus to cultural resistance against China's nation-building project in Hong Kong. The article empirically shows the limitation of nation-building, which relies mainly on ethnic appeal but less on civic dimensions. It also discusses to what extent the ethnic-civic dialogue of nation-building could inform Chinese state nationalism and resistance to it in post-handover Hong Kong.
KEYWORDS: ethnic-civic dialogue of nationalism, Chinese state nationalism, post-handover Hong Kong, Hong Kong identity.
Access to this article is restricted to subscribers to China Perspectives.
Register here
Sign in
Add to cart
Asylum Seekers as Symbols of Hong Kong's Non-Chineseness
Page 51
ABSTRACT: This article discusses the situation of asylum seekers in Hong Kong and how it has changed in recent years. Hong Kong treats asylum seekers relatively well compared to some other societies, but at the same time, the chance of being accepted as a refugee is virtually zero. Although it is illegal for asylum seekers to work, it is virtually impossible for them not to work given the minuscule government support they receive. Amidst government neglect, asylum seekers have emerged as heroes among some Hong Kong young people after the Umbrella Movement. Whereas in years past, asylum seekers were generally ignored or looked down upon by Hongkongers, among some youth today, asylum seekers have emerged as symbols of Hong Kong's non-Chineseness.
KEYWORDS: asylum seekers, Hong Kong, Chinese influence, racism, Hong Kong's non-Chineseness.
Access to this article is restricted to subscribers to China Perspectives.
Register here
Sign in
Add to cart
Articles
Young Feminist Activists in Present-Day China: A New Feminist Generation?
Page 59
ABSTRACT: This article studies post-2000 Chinese feminist activism from a generational perspective. It operationalises three notions of generation— generation as an age cohort, generation as a historical cohort, and "political generation"—to shed light on the question of generation and generational change in post-socialist Chinese feminism. The study shows how the younger generation of women have come to the forefront of feminist protest in China and how the historical conditions they live in have shaped their feminist outlook. In parallel, it examines how a "political generation" emerges when feminists of different ages are drawn together by a shared political awakening and collaborate across age.
KEYWORDS: post-socialist Chinese feminism, generation, feminist activism, China, age cohort, historical cohort, political generation.
Access to this article is restricted to subscribers to China Perspectives.
Register here
Sign in
Add to cart
The Evolution of Sino-Russian Relations as Seen from Moscow: The Limits of Strategic Rapprochement
Page 69
ABSTRACT: In the past few years, there has been a significant economic and political rapprochement between China and Russia, marked by the announcement of numerous trade agreements and investments in transport infrastructure and the exploitation of Russian natural resources. This cooperation seems to have intensified since the 2014 Ukrainian crisis. Some European and American media see it as a sign that China and Russia are developing a form of strategic alliance that could harm Western interests. This article analyses the different forms of Sino-Russian rapprochement whilst highlighting the economic and political limits of this cooperation.
KEYWORDS: China-Russia relations, Belt and Road Initiative, rapprochement, rivalry, trade, investment, strategic partnership.
Access to this article is restricted to subscribers to China Perspectives.
Register here
Sign in
Add to cart
CEFC News Analysis
Contextualising the National Anthem Law in Mainland China and Hong Kong: Football as a Field of Political Contention
Page 79
Book Reviews