Global China and the Future of Capitalism Seminar Series
Organised by
The Department of Sociology, University of Hong Kong &
The Faculty of Social Sciences, University of Hong Kong
in collaboration with
The French Centre for Research on Contemporary China (CEFC)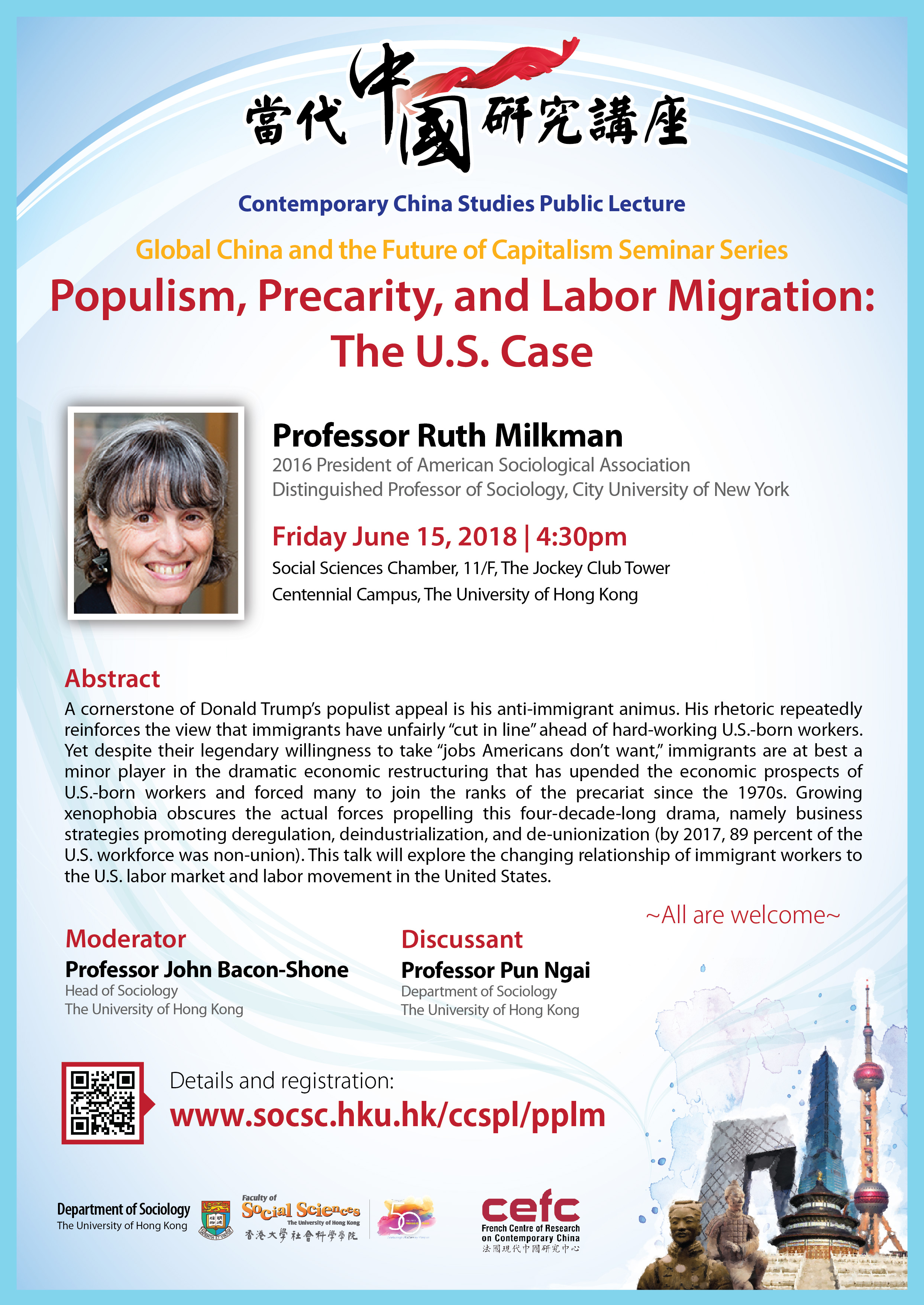 Speakers:
Prof. Ruth Milkman, 2016 President of American Sociological Association.
Distinguished Professor of Sociology, City University of New York
Abstract:
A cornerstone of Donald Trump's populist appeal is his anti-immigrant animus. His rhetoric repeatedly reinforces the view that immigrants have unfairly "cut in line" ahead of hard-working U.S.-born workers. Yet despite their legendary willingness to take "jobs Americans don't want," immigrants are at best a minor player in the dramatic economic restructuring that has upended the economic prospects of U.S.-born workers and forced many to join the ranks of the precariat since the 1970s. Growing xenophobia obscures the actual forces propelling this four-decade-long drama, namely business strategies promoting deregulation, deindustrialization, and de-unionization (by 2017, 89 percent of the U.S. workforce was non-union.) This talk will explore the changing relationship of immigrant workers to the U.S. labor market and labor movement in the United States.
Moderator:
Prof. John Bacon-Shone, Head of Sociology, the University of Hong Kong
Discussant:
Prof. Pun Ngai, Department of Sociology, the University of Hong Kong
The seminar will be held in English.
This seminar is the fourth of the "Global China and the Future of Capitalism Seminar Series" being held in 2018 and 2019. The concept note is available here.
All interested are welcome, limited seats.
Detail and registration: http://www.socsc.hku.hk/ccspl/pplm/