Global China and the Future of Capitalism Seminar Series
Organised by
The Department of Sociology, University of Hong Kong &
The French Centre for Research on Contemporary China (CEFC)
Speakers:
Prof. Sandro Mezzadra, University of Bologna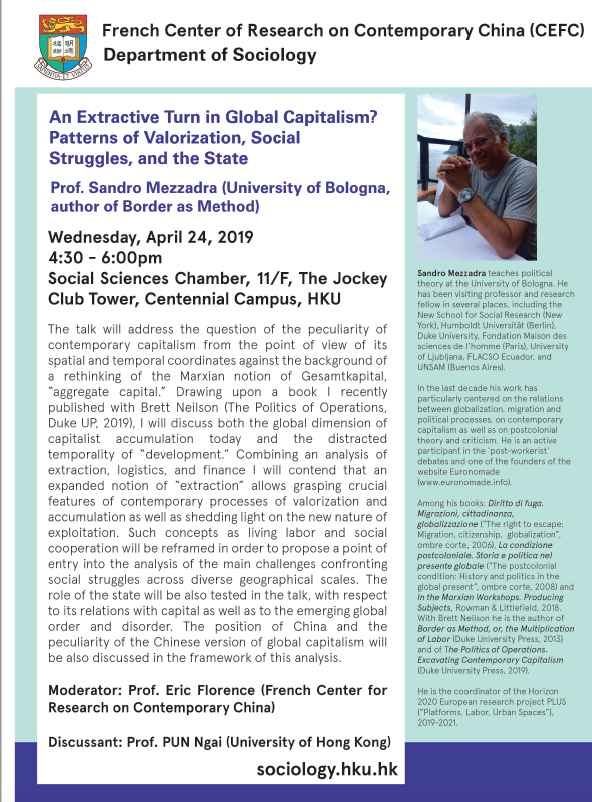 Abstract:
The talk will address the question of the peculiarity of contemporary capitalism from the point of view of its spatial and temporal coordinates against the background of a rethinking of the Marxian notion of Gesamtkapital, "aggregate capital." Drawing upon a book I recently published with Brett Neilson (The Politics of Operations, Duke UP, 2019), it will discuss both the global dimension of capitalist accumulation today and the distracted temporality of "development." Combining an analysis of extraction, logistics, and finance the author contends that an expanded notion of "extraction" allows grasping crucial features of contemporary processes of valorization and accumulation as well as shedding light on the new nature of exploitation. Such concepts as living labor and social cooperation will be reframed in order to propose a point of entry into the analysis of the main challenges confronting social struggles across diverse geographical scales. The role of the state will be also tested in the talk, with respect to its relations with capital as well as to the emerging global order and disorder. The position of China and the peculiarity of the Chinese version of global capitalism will be also discussed in the framework of this analysis.
Moderator:
Dr. Eric Florence, Director of CEFC
Discussant:
Prof. Pun Ngai  (University of Hong Kong)
The seminar will be held in English.
This seminar is the 9th of the "Global China and the Future of Capitalism Seminar Series" being held in 2018 and 2019. The concept note is available here.