Un séminaire organisé par l'Alliance française de Hong Kong, en collaboration avec le Centre d'Etudes Français sur la Chine contemporaine (CEFC)
« Face à face au travail en Asie – Approches et questionnements interculturels pour le management de quelques clés d'analyse pratiques et théoriques »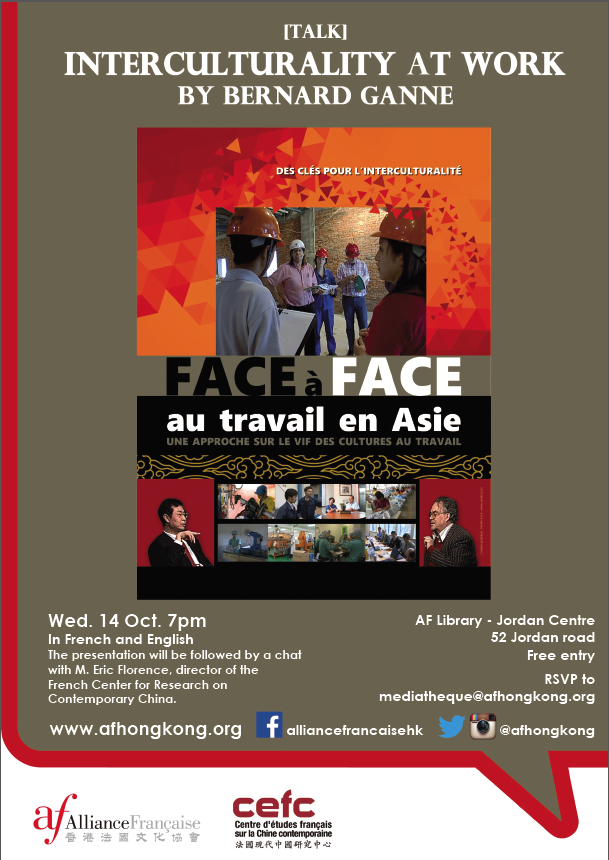 Souvent sources de quiproquos et d'incompréhensions, les différences culturelles peuvent être un frein pour la réalisation de projets en Asie. Au-delà de l'inventaire des différences, il s'agit de réfléchir sur leur signification et sur ce qu'elles nous apprennent – sur l'Asie et sur nous-mêmes.
Biographie:
Bernard Ganne (directeur de recherché émérite au CNRS, sociologue de l'entreprise et du travail) a particulièrement étudié le développement des PME et districts industriels en France et en Europe et suivi depuis 15 ans le développement des entreprises en Asie. Il analyse notamment les reconfigurations entraînées aujourd'hui par la mondialisation, décryptant les parcours inédits d'entreprises et le choc des cultures au travail. Il utilise le film et l'image pour ses travaux de recherche concernant le monde de l'entreprise en France, en Europe, ainsi que depuis 1997 en Asie (Chine, Japon, Vietnam). Il développe actuellement ses travaux dans une double direction; en Asie notamment, où il analyse les modes de fonctionnement spécifiques des clusters industriels chinois. En France également où il étudie les mutations actuelles du monde du travail ainsi que les formes de développement des pôles de compétitivité. De façon plus large, il travaille actuellement sur l'évolution des rapports interculturels entre l'Asie et l'Europe ainsi que sur l'impact des différentes postures cognitives et épistémologiques qui marquent ces aires.
Ses publications les plus récentes incluent:
GANNE Bernard (2013). « La sociologie au risque du film : une autre façon de chercher, une autre façon de documenter ». ethnographiques.org, Numéro 25 – décembre 2012 Filmer le travail : chercher, montrer, démontrer.
GANNE Bernard (2012) « Partir de l'immanence ou y venir ? De quelques « plis et décalages observés en Asie et en Chine », in « En lisant François Jullien… » (P.David et A. Riou éd.), Lethielleux, 77-93.
GANNE Bernard, SHI Lu (2011) « Local Economic Development and Transformations of the Political Discourse and Practices in China : Case Analyses from the Zhejiang Region from the 1980s », European Journal of East Asian Studies (EJEAS) 10, 203-226..
Le seminaire se déroulera en français.
The seminar will be held in French and translated to English