French Centre for Research on Contemporary China (CEFC) – Taipei
Centre for Political Thought, Research Center for Humanities and Social Sciences, Academia Sinica
"Chasing the China Wind: An Ethnographic Filmmaking Journey into the Studies of Popular Music"
Screening and talk by the director Dr. Chen-Yu Lin
Monday, September 21st, 2PM
Conference Room 1
Research Center for Humanities and Social Sciences,
Academia Sinica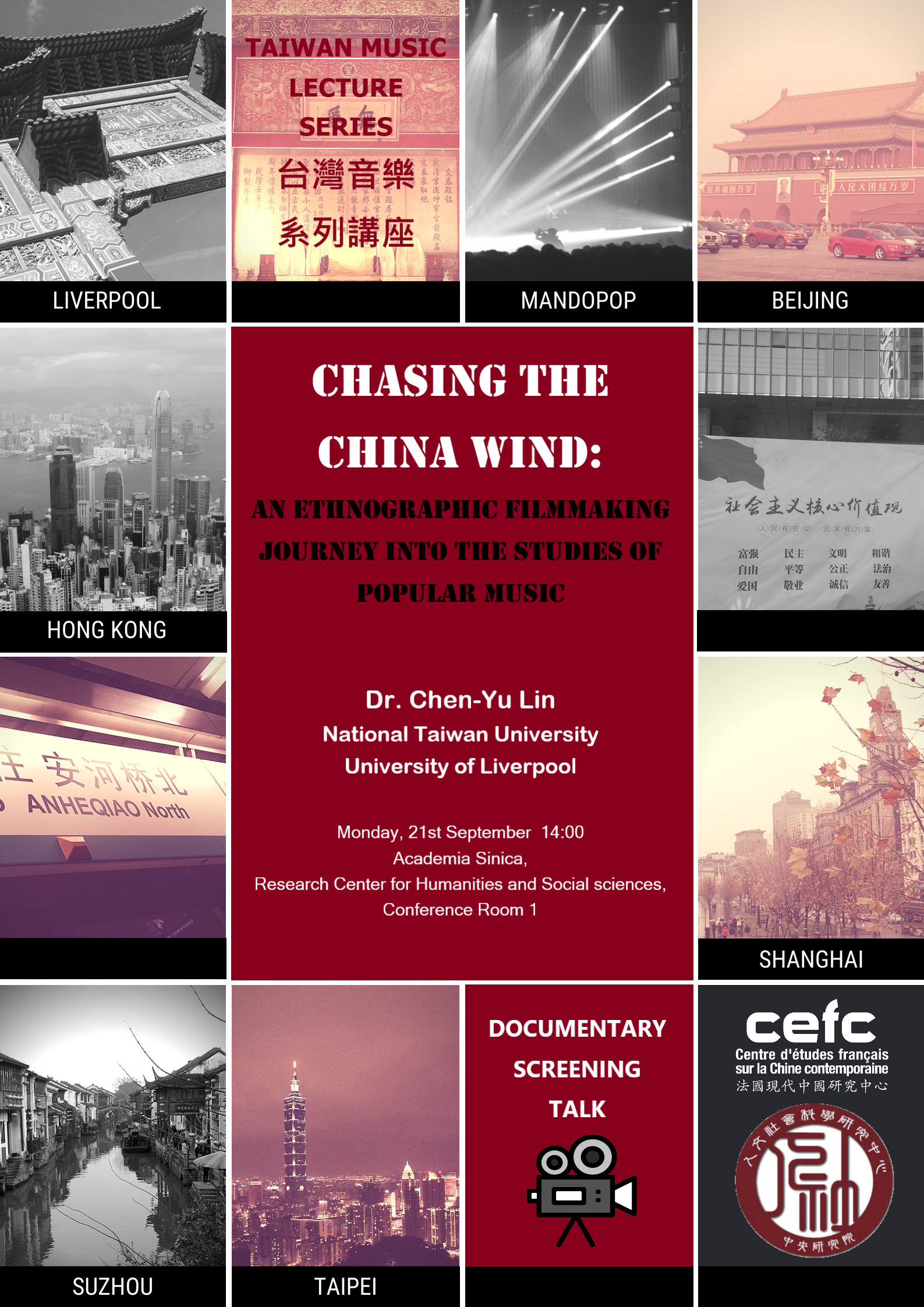 Abstract
Since the 2000s, a new sense of Chineseness has been constructed in 'China Wind' (zhongguofeng 中國風) music, while Taiwanese pop star Jay Chou has gained success culturally and commercially in China and beyond. This style of music has developed a specific sound by employing traditional Chinese music elements while the lyrical content often involves laudatory references to Chinese traditional cultural artefacts or achievements. The researcher went on a six-month trip to Taiwan, Hong Kong, China, and the UK to conduct ethnographic research to explore the perceptions of Chineseness in China Wind Music from the audiences' perspectives. On this trip, she made a 30-min documentary entitled Chasing the China Wind: A Musical Journey. This film presents the way audiences engage with China Wind music, reflecting the constant negotiation of Chineseness that takes place in both the creation and consumption of music, as well as how popular music helps audiences to create their identities, thereby discovering and defining their 'selves' while imagining themselves as being or not being Chinese. This talk uses the making of the film as a case study and argues that the practice of filmmaking itself can be seen as a research method that enriches both text- and film-based ethnography. This practice reflects Jean Rouch's (2003) concept of the 'shared anthropology' involved in different stages of research: from fieldwork, filming, to screening.
Dr Chen-Yu Lin is Assistant Professor at Department of International Business, National Taiwan University, and Research Fellow in Institute of Popular Music (IPM), Department of Music at the University of Liverpool. Her research interests include the transnational markets of popular music and music censorship. She is a documentary producer. The short film she produced and directed, Chasing the China Wind: A Musical Journey, was nominated for Utopian Award in AHRC Research in Film Awards 2016. Another film she produced and co-directed, George Harrison: The Story of the Beatles and Indian Music, was screened in a tribute concert for the 50th anniversary of the release of Sgt. Pepper's Lonely Hearts Club. Chen-Yu is also a music journalist writing for various publications, including Q Magazine, Vogue, Initium Media and so on.
Access and transportation:
https://www.iis.sinica.edu.tw/page/aboutus/Directions.html?lang=en