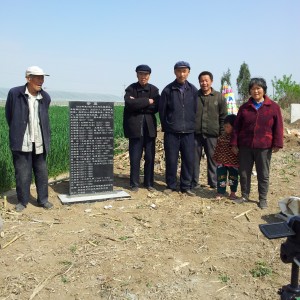 ORGANIZER:
French Centre for Research on Contemporary China in the framework of the ANR-RGC collaborative project "New Approaches to the Mao Era" (CEFC-HKU)
LANGUAGES:
English and Mandarin with consecutive translation
PROGRAM:
For further information of the conference, please click here <Paris Conference program-EN-CH> to download the PDF version of the program.
ARGUMENT:

Since the 1990s, a series of remarkable forms expressing the collective memory of the Mao era has appeared in China, against a background of amnesia and explicit restrictions in the official media, academia, and public commemoration. While some of its expressions may seem anecdotal, it has also produced a crop of unofficial testimonies and investigative studies, on the margins of official channels. Some are about the Educated Youth movement during the Cultural Revolution, others pertain to the political movements of the 1950s, such as the Anti-Rightist movement and the Great Leap Forward (Yang Jisheng). In a similar way, literature has played a key role in documenting alternative views of everyday life in the Maoist era. While writers of the "scar literature" school of the 1980s were easily co-opted into official narratives of the Cultural Revolution, in recent years more radical works have appeared, documenting the 1950s and the Cultural Revolution (Yan Lianke, Yang Xianhui). Unofficial journals like Lao Zhaopian (Old Photographs, edited by Ding Dong), Jiyi (Memory, edited by Wu Di), Kan Lishi (Looking at History, edited by Yang Xiaodong) or Hei wulei (The Five black categories, edited by Jiao Guobiao) are disseminated via the internet. The last 15 years have seen an outpour of independent documentary films, made by ordinary individuals thanks to cheap equipment, documenting family histories and personal memories of various moments in the Mao era, from collectivization to the Cultural Revolution (Hu Jie, Ai Xiaoming). These literary or filmic works, made by ordinary citizens, and published or disseminated through various channels including the internet, also contribute to challenging the existing historiography.
This challenge to history has deep-reaching consequences for a regime whose legitimacy is grounded in the "correct" understanding of history. Since 1981, when the Party put an end to historical debates previously encouraged by Deng, by adopting a resolution "On several points in the history of our Party," the Party's monopoly on historiography has remained massive. In this perspective, the struggle for the interpretation of history has potentially major implications for the relations between society and the Chinese Party-state.
By offering an opportunity to present findings from recent fieldwork on various forms of unofficial or popular memory of the Mao Era (social organizations, unofficial journals, literary reportage and documentary film, oral history), this conference proposes to discuss how these various forms of memory can transform our understanding of Chinese history and perhaps Chinese historiography itself.