Organised by
The French Centre for Research on Contemporary China (CEFC)
in collaboration with
The Organisation for Economic Co-operation and Development (OECD) 

HKUST Institute for Emerging Market Studies 

 
Speakers:
Vincent Koen, Head of Division, OECD Economics Department Country Studies
Margit Molnar, Chief China Economist, OECD Economics Department
Discussants:
Albert Park, Director, Institute for Emerging Market Studies, Hong Kong University of Science and Technology (HKUST IEMS)
Sandra Poncet, CEFC Hong Kong
Synopsis:
The 2017 OECD Economic Survey of China assesses the country's recent macroeconomic performance and proposes policy measures to promote higher-quality growth. Improving corporate performance by boosting innovation activities and entrepreneurship, enhancing the standards of corporate governance and reforming state-owned enterprises by exposing them more to market mechanisms would raise efficiency and boost household incomes, increase employment opportunities and raise people's overall well-being. Moving to less energy-intensive production is also key to achieve greener and more sustainable growth. Greater redistribution through the tax-and-transfer system and better targeting of social assistance would enhance inclusiveness. At the same time, inequalities in access to education, healthcare and pensions need to be addressed.
The seminar was chaired by Sandra Poncet and held in English
Photo and video podcasts by HKUST IEMS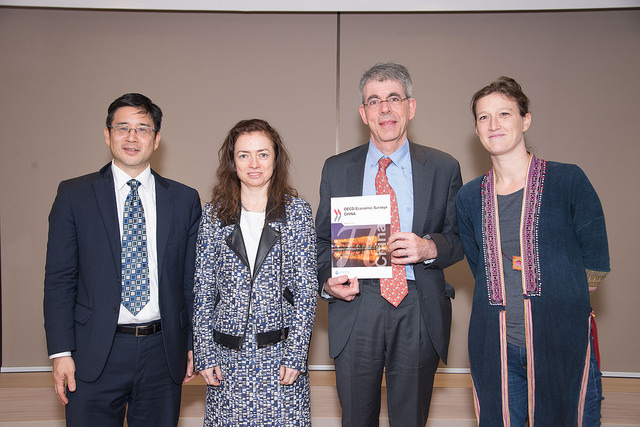 Vincent Koen: Macroeconomic Prospects, Policies and Risks for China
Margit Molnar: More Resilient and Inclusive Growth for China
Albert Park: Comments on the OECD Economic Surveys of China 2017
Sandra Poncet: Comments on the OECD Economic Surveys of China 2017
http://iems.ust.hk/events/event/china-economic-prospects-oecd-analysis-and-recommendations-seminar-cefc/