Organised by
Faculty of Social Sciences, The University of Hong Kong
Co-organised by
The French Centre for Research on Contemporary China (CEFC)
Contemporary China Studies Public Lecture:
How Much Should We Expect to Know About Chinese Politics? Views from Journalists and Scholars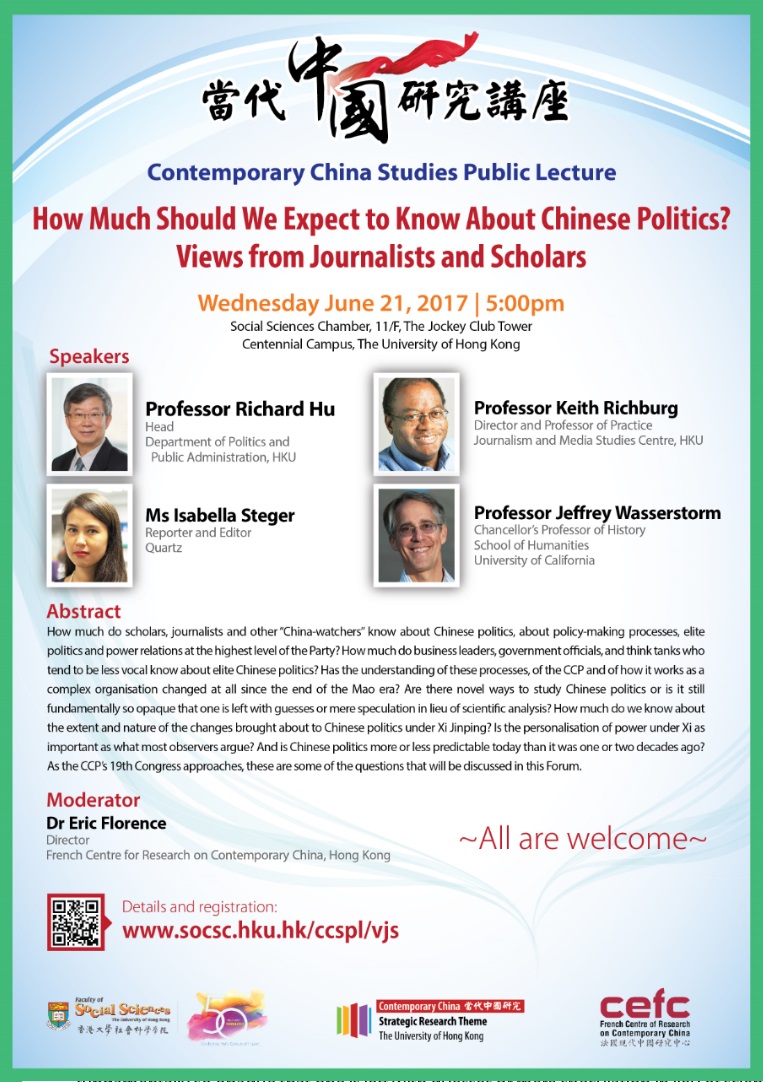 Speakers
Ms Isabella Steger, Reporter and Editor, Quartz
Professor Keith Richburg, Director and Professor of Practice, Journalism and Media Studies Centre, HKU
Professor Richard Hu, Head, Department of Politics and Public Administration, HKU
Professor Jeffrey Wasserstorm, Chancellor's Professor of History, School of Humanities, University of California
Abstract
« Those who know don't talk, those who talk don't know »
Laozi, Dao De Jing
How much do scholars, journalists and other "China-watchers" know about Chinese politics, about policy-making processes, elite politics and power relations at the highest level of the Party ? How much do business leaders, government officials, and think tanks who tend to be less vocal know about elite Chinese politics ? Has the understanding of these processes, of the CCP and of how it works as a complex organization changed at all since the end of the Mao era? Are there novel ways to study Chinese politics or is it still fundamentally so opaque that one is left with guesses or mere speculation in lieu of scientific analysis?  How much do we know about the extent and nature of the changes brought about to Chinese politics under  Xi Jinping? Is the personalization of power under Xi as important as what most observers argue? And is Chinese politics more or less predictable today than it was one or two decades ago? As the CCP's 19th Congress approaches, these are some of the questions that will be discussed in this roundtable.
The roundtable will be chaired by Dr. Eric Florence, Director of CEFC Hong Kong
Free admission, no reservation required.
Please visit the website of Contemporary China Studies Public Lectures, HKU for further information.