The French Centre for Research on Contemporary China (CEFC), Taipei Office presents a seminar :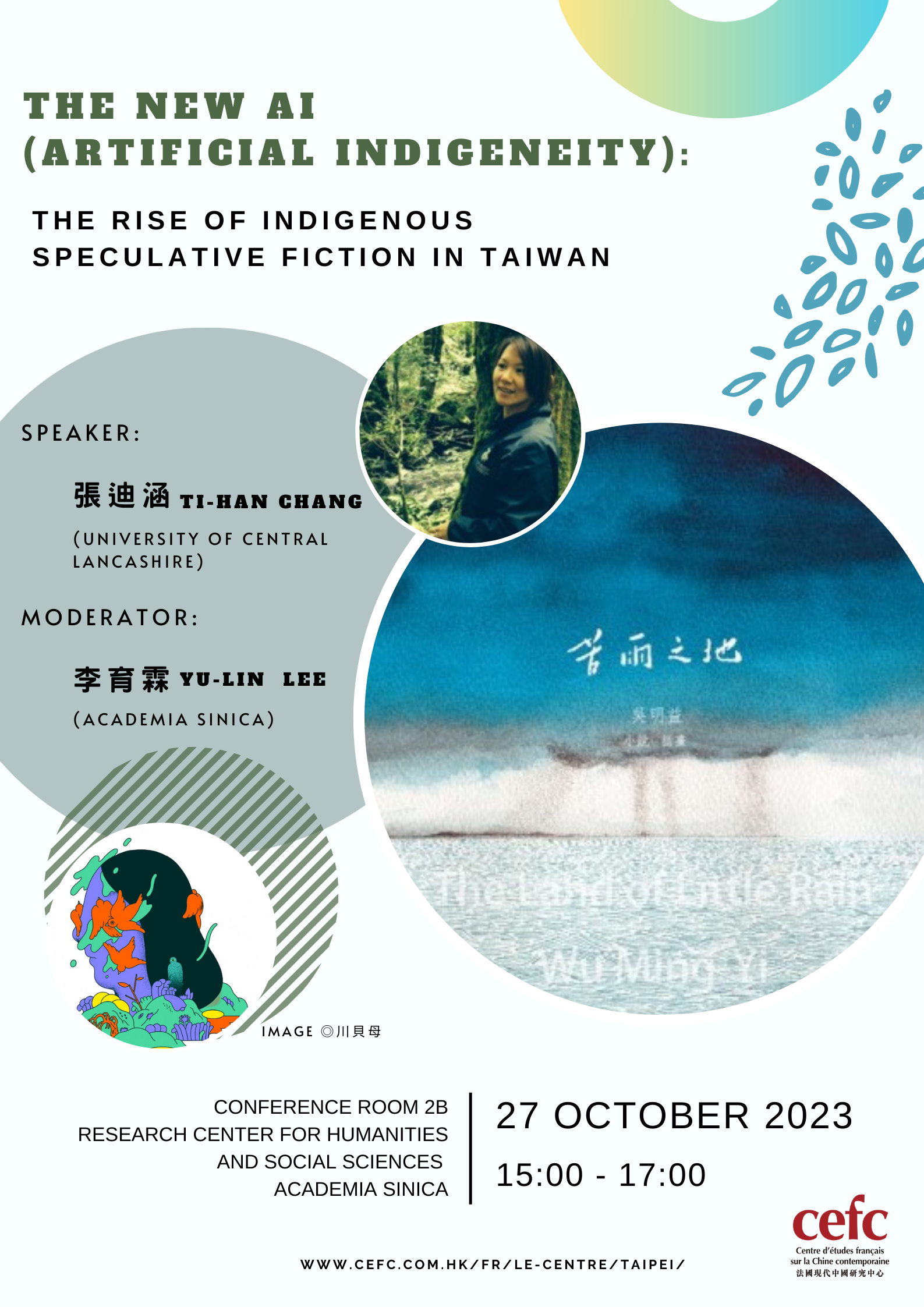 In this presentation, I will be unfolding the rise of indigenous speculative fiction in Taiwan, a new subgenre in the field of eco-literature which combines the unique Austronesian cultural imagination with speculative realism. I argue that the new AI –  which I refer to as "Artificial Indigeneity" rather than Artificial Intelligence –is taking a new lead in Taiwan's eco-literature and it can potentially contribute to the development of global eco-criticism.
From a historical perspective of Taiwanese literature, social and political issues (e.g., racial and gender discrimination, colonial and neoliberal exploitation, human and land rights problems, etc.) largely dominated most of the indigenous writings in the 1990s and early 2000. It is only after the New Millennium we see more and more writings that are produced by indigenous authors also being examined or analysed through an eco-critical lens. Indigenous authors in Taiwan thus realise how their writings or their representation of the Traditional Knowledge (TK) could positively influence the understanding of their distinctive ontologies and cosmologies. Some authors, like Syaman Rapongan or Ahronglong Sakinu, are more consciously aware of this dynamic. They began to more systematically contextualise in their literary works the pluri-verse that humans and nonhumans share, which is also unique to their Austronesian cultures.
Interestingly, this uniqueness of Austronesian pluri-verse was not unfamiliar to Taiwanese non-indigenous nature writers. In the 1990s, nature writers like Wang Jia-xiang already incorporated elements of indigenous mythology that are interconnected with the environmental and colonial history of Taiwan. Novels like The Myth of Negrito《小矮人之謎》(1996) or The Riddle of the Negrito Legend 《鰓人》 (1999) not only demonstrate his attempts to decipher the Austronesian cosmologies from a non-indigenous perspective but also showcase how he effectively used magical realism to represent the hybridity between the human and nonhuman pluri-verse.
The contemporary eco-literature in Taiwan thus inherits this distinctive quality. Whereas traditional nature writing would focus on the author's empirical experiences and scientific knowledge about nature and typical indigenous writing would highlight the "authenticity" of the author's ethnic identity, the current trend of eco-writing breaks away from these constraints. It takes a different turn by reworking indigenous ontologies with scientific knowledge in the form of speculative fiction, rendering the boundary between science, indigenous belief systems, and ontology more equivocal and obscure. In some respects, though the writing of the indigeneity is "artificially generated", it fosters a wider disciplinary engagement among literary studies, indigenous studies, history, natural science and environmental philosophy. In this presentation, I will draw a comparative literary analysis of Wu Ming-yi's吳明益 short story, "Cloudland 雲在兩千米" from The Land of Little Rain 《苦雨之地》(2019) and Chiou Charng-ting's 邱常婷 "Zebra Finch Rain斑雀雨" (2020), an award-winning nouvella selected in Jiuge 2020 Short Story Collection《九歌109年小說選》to demonstrate that a reworking of science and technology through the incursions of the natural world is possible.
Professor Lee Yu-lin, Academia Sinica will be the moderator of this seminar.
Bio/
Ti-han Chang is a lecturer (assistant professor) in Asia Pacific Studies at the University of Central Lancashire. Her research focusses on the contemporary eco-literature in Taiwan and its implication in the Asia Pacific region. Ti-han is particularly interested in postcolonial ecocriticism, which draws her attention to topics such as nonhuman agency, borders and nations, climate change and migration. At UCLan, she is the deputy director at the Centre of Austronesian Studies (COAST), and further contributes her research works through the Norther Institute of Taiwan Studies (NorITS) and the Centre for Migration, Diaspora and Exile (MIDEX). Externally, Ti-han serves as a board member of the European Association of Taiwan Studies (EATS). Since 2019, she is engaged with multiple research projects which investigate the Pacific climate migrants and the narratives of the displaced. Currently, she is preparing her monograph on contemporary eco-writings in Taiwan, two co-edited volumes, Identities on the Move and Taiwan as Ocean, and a co-edited translation anthology, A Taiwanese Eco-literature Reader.
The seminar will be held in English.