The French Centre for Research on Contemporary China (CEFC), Taipei Office presents a seminar :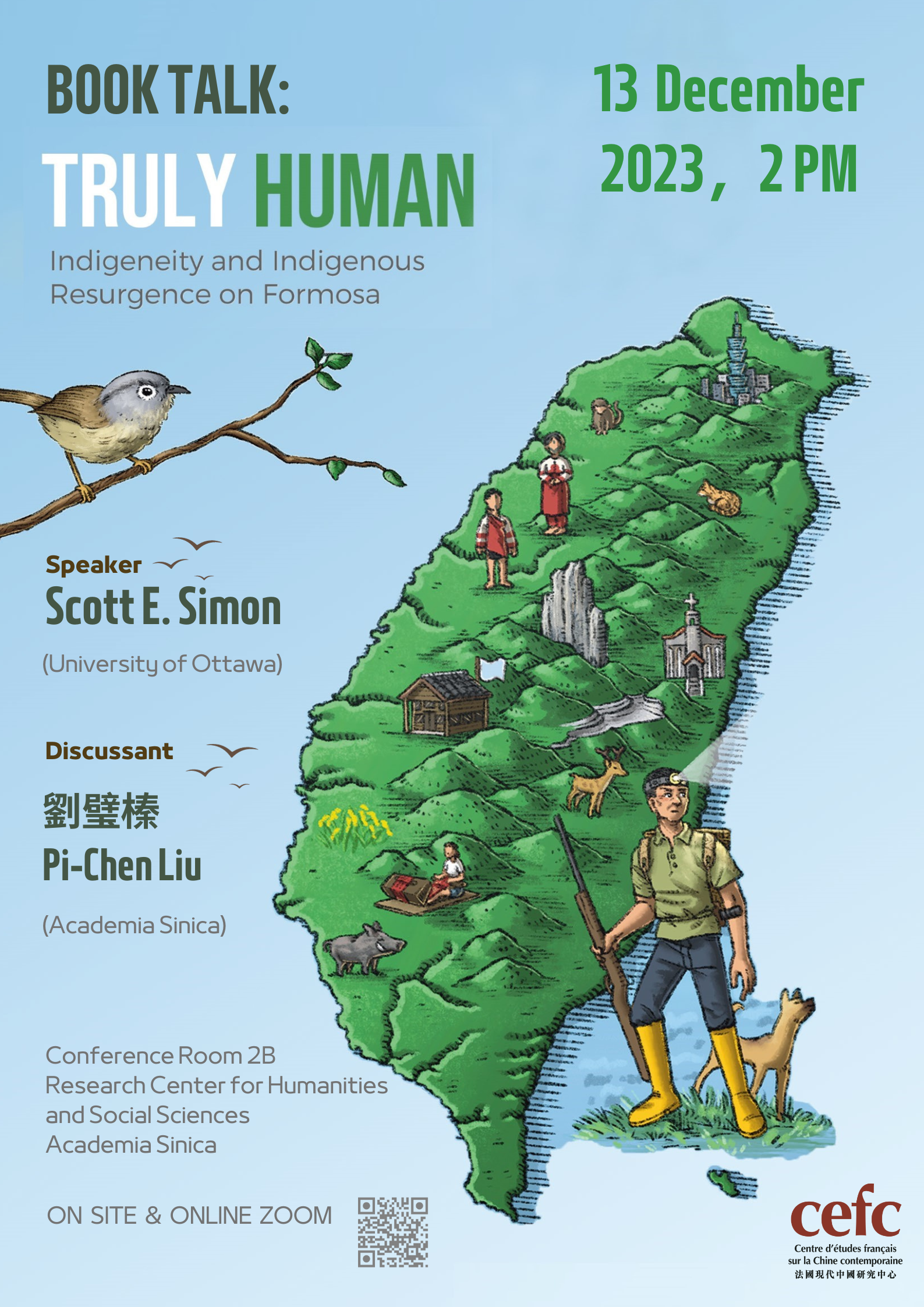 ON SITE & ONLINE ZOOM: https://reurl.cc/p5bORl
Book description
The Sediq and Truku Indigenous peoples on the mountainous island of Formosa – today called Taiwan – say that their ancestors emerged in the beginning of time from Pusu Qhuni, a tree-covered boulder in the highlands. Living in the mountain forests, they observed the sacred law of Gaya, seeking equilibrium with other humans, the spirits, animals, and plants. They developed a politics in which each community preserved its autonomy and sharing was valued more highly than personal accumulation of goods or power. These lifeworlds were shattered by colonialism, capitalist development, and cultural imperialism in the twentieth century. Based on two decades of ethnographic field research, Truly Human portrays these peoples' lifeworlds, teachings, political struggles for recognition, and relations with non-human animals. Taking seriously their ontological claims that Gaya offers moral guidance to all humans, Scott E. Simon reflects on what this particular form of Indigenous resurgence reveals about human rights, sovereignty, and the good of all kinds.
Bio
Scott E. Simon (School of Sociological and Anthropological Studies, University of Ottawa), is a socio-anthropologist trained in both disciplines (anthropology and sociology). Co-holder of the Chair of Taiwan Studies at the University of Ottawa, he has lived in Taiwan for ten years and returns annually for field research. He is currently a visiting scholar at the Institute of Ethnology, Academia Sinica, doing comparative work on ontogenesis in both Han Taiwanese and Indigenous communities.
His research interests over his career have included Indigenous and human rights, development, ecological anthropology, and Canada-Taiwan relations. He has written four books and numerous articles about Taiwan. He does policy-oriented research as member of the Centre for International Policy Studies and the Human Rights Research and Education Centre at the University of Ottawa, and, with the hope that international support for Taiwan will help protect the lifeworlds of Indigenous and other peoples against external threats, as Senior Fellow at Ottawa's Macdonald-Laurier Institute. In 2023, his expert testimony about Taiwan was instrumental in the parliamentary report Canada and Taiwan: A Strong Relationship in Turbulent Times.