A Hong Kong-based journal, China Perspectives works closely with local institutions and scholars. Over the years, the journal has published many important articles on Hong Kong studies.

The following selection of recent articles aims at providing historical context and perspectives to readers who would like to grasp the ongoing developments taking place in Hong Kong.
2020/3
CHUNG, Hiu-Fung. 2020 (forthcoming). "Changing Repertoires of Contention in Hong Kong: A case study on the Anti-Extradition Bill Movement." China Perspectives 3.
2019/3
LAM, Nga Li. 2019. "'The Song of Selling Olives': Acoustic Experience and Cantonese Identity in Canton, Hong Kong, and Macau across the Great Divide of 1949." China Perspectives 3: 9-16. https://www.cefc.com.hk/article/song-selling-olives-acoustic-experience-cantonese-identity-canton-hong-kong-macau-across-great-divide-1949/
2019/2
FLORENCE, Eric, and Judith PERNIN. 2019. "1989-2019: Perspectives on June 4th from Hong Kong." China Perspectives 1: 81-6. https://www.cefc.com.hk/article/1989-2019-perspectives-on-june-4th-from-hong-kong/
2019/1
ZHU, Han. 2019. "Beijing's 'Rule of Law' Strategy for Governing Hong Kong." China Perspectives 1: 23-33. https://www.cefc.com.hk/article/beijings-rule-of-law-strategy-for-governing-hong-kong-legalisation-without-democratisation/
2018/3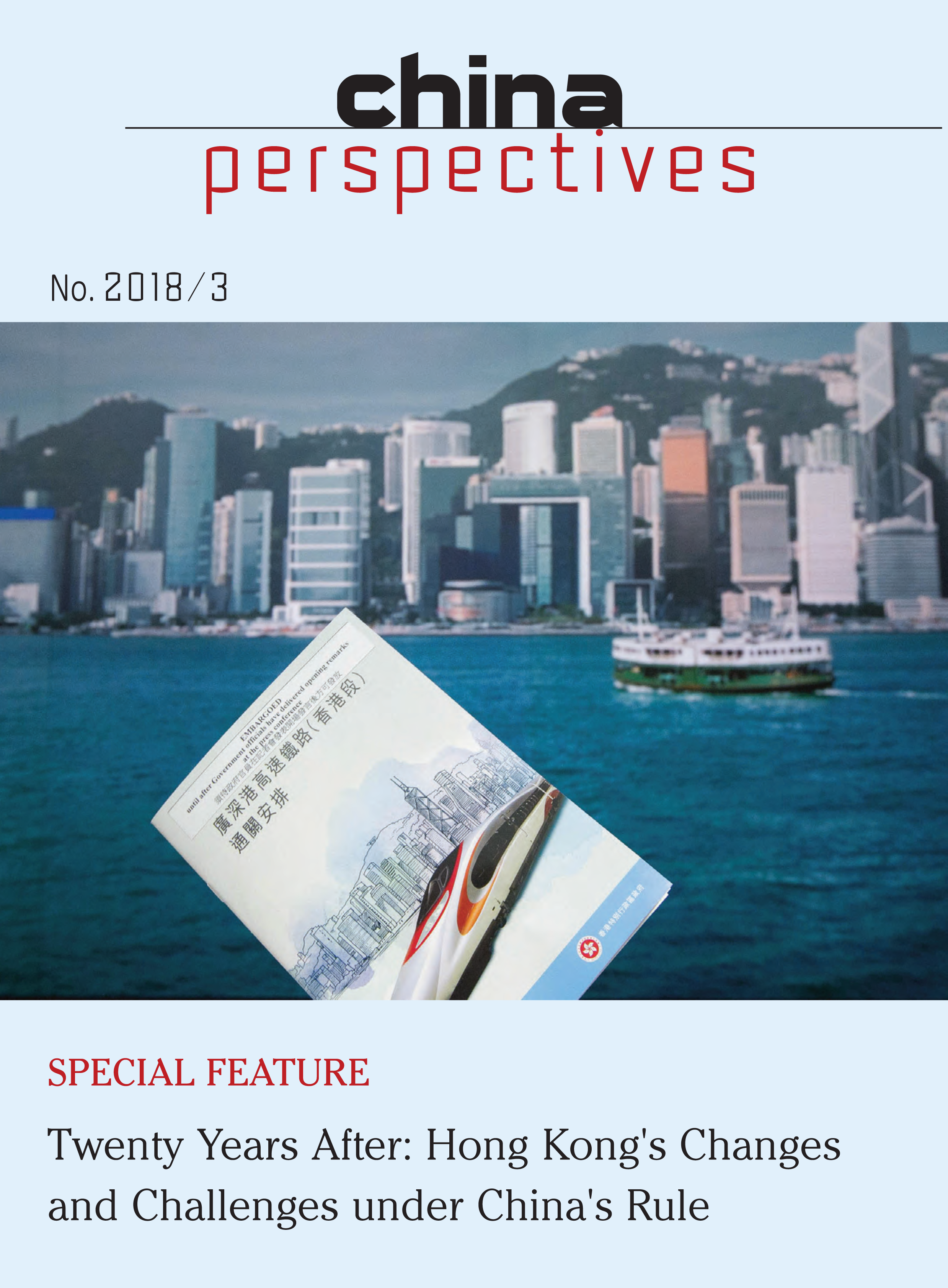 CABESTAN, Jean-Pierre, and Éric FLORENCE. 2018."Editorial – Twenty Years After the Handover: Hong Kong's Political and Social Transformation and Its Future under China's Rule." China Perspectives 3: 3-7. https://www.cefc.com.hk/article/editorial-twenty-years-after-the-handover-hong-kongs-political-and-social-transformation-and-its-future-under-chinas-rule/
LEE, Francis L. F. 2018. "Changing Political Economy of the Hong Kong Media." China Perspectives 3: 9-18. https://www.cefc.com.hk/article/changing-political-economy-of-the-hong-kong-media/
YUEN, Samson, and Sanho CHUNG. 2018. "Explaining Localism in Post-handover Hong Kong: An Eventful Approach." China Perspectives 3: 19-29. https://www.cefc.com.hk/article/explaining-localism-in-post-handover-hong-kong-an-eventful-approach/
WONG, Stan Hok-Wui, and Kin Man WAN. 2018. "The Housing Boom and the Rise of Localism in Hong Kong: Evidence from the Legislative Council Election in 2016." China Perspectives 3: 31-40. https://www.cefc.com.hk/article/the-housing-boom-and-the-rise-of-localism-in-hong-kong-evidence-from-the-legislative-council-election-in-2016/
KIT, Chan Chi, and Anthony FUNG Ying Him. 2018. "Disarticulation between Civic Values and Nationalism: Mapping Chinese State Nationalism in Post-handover Hong Kong." China Perspectives 3: 41-50. https://www.cefc.com.hk/article/disarticulation-between-civic-values-and-nationalism-mapping-chinese-state-nationalism-in-post-handover-hong-kong/
MATHEWS, Gordon. 2018. "Asylum Seekers as Symbols of Hong Kong's Non-Chineseness." China Perspectives 3: 51-8. https://www.cefc.com.hk/article/asylum-seekers-as-symbols-of-hong-kongs-non-chineseness/
YU, Ting-Fai. 2018. "Contextualising the National Anthem Law in Mainland China and Hong Kong: Football as a Field of Political Contention." China Perspectives 3: 79-82. https://www.cefc.com.hk/article/contextualising-national-anthem-law-mainland-china-hong-kong-football-field-political-contention/
2017/4
YU, Ting-Fai. 2017. "The Imprisonment of Occupy Student Leaders." China Perspectives 4: 59-62. https://www.cefc.com.hk/article/imprisonment-occupy-student-leaders-public-reactions-debates-hong-kongs-judicial-independence/
2017/3
KWOK, Chi, and Ngai Keung, CHAN. 2017. "Legitimacy and Forced Democratisation in Social Movements: A Case Study of the Umbrella Movement in Hong Kong." China Perspectives 3: 7-16. https://www.cefc.com.hk/article/legitimacy-and-forced-democratisation-in-social-movements-a-case-study-of-the-umbrella-movement-in-hong-kong/
MA, Ngok. 2017. "The China Factor in Hong Kong Elections." China Perspectives 3: 17-26. https://www.cefc.com.hk/article/the-china-factor-in-hong-kong-elections-1991-to-2016/
2016/4
SCHOEB, Veronika. 2016. "Healthcare Service in Hong Kong and its Challenges." China Perspectives 4: 51-8. https://www.cefc.com.hk/article/healthcare-service-hong-kong-challenges-role-health-professionals-within-social-model-health/
RUHLIG, Tim. "'Do You Hear the People Sing' 'Lift Your Umbrella'?" China Perspectives 4: 59-68. https://www.cefc.com.hk/article/hear-people-sing-lift-umbrella-understanding-hong-kongs-pro-democratic-umbrella-movement-youtube-music-videos/
2016/3
KWONG, Ying-ho. 2016. "The Growth of "Localism" in Hong Kong." China Perspectives 3: 63-8. https://www.cefc.com.hk/article/the-growth-of-localism-in-hong-kong-a-new-path-for-the-democracy-movement/
2016/2
CHIANG, Min-Hua. 2016. "Sustaining Hong Kong's Services amid the Changing Dynamics of China's Economy." China Perspectives 2: 37-45. https://www.cefc.com.hk/article/sustaining-hong-kongs-services-amid-the-changing-dynamics-of-chinas-economy/
2015/1
YUEN, Samson. 2015. "Hong Kong After the Umbrella Movement: An uncertain future for 'One Country Two Systems'." China Perspectives 1: 49-53. https://www.cefc.com.hk/article/hong-kong-after-the-umbrella-movement-an-uncertain-future-for-one-country-two-systems/
2014/2
YUEN, Samson. 2014. "Under the Shadow of China. Beijing's policy towards Hong Kong and Taiwan in comparative perspective." China Perspectives 2: 69-76. https://www.cefc.com.hk/article/shadow-china-beijings-policy-towards-hong-kong-taiwan-comparative-perspective/#
2014/1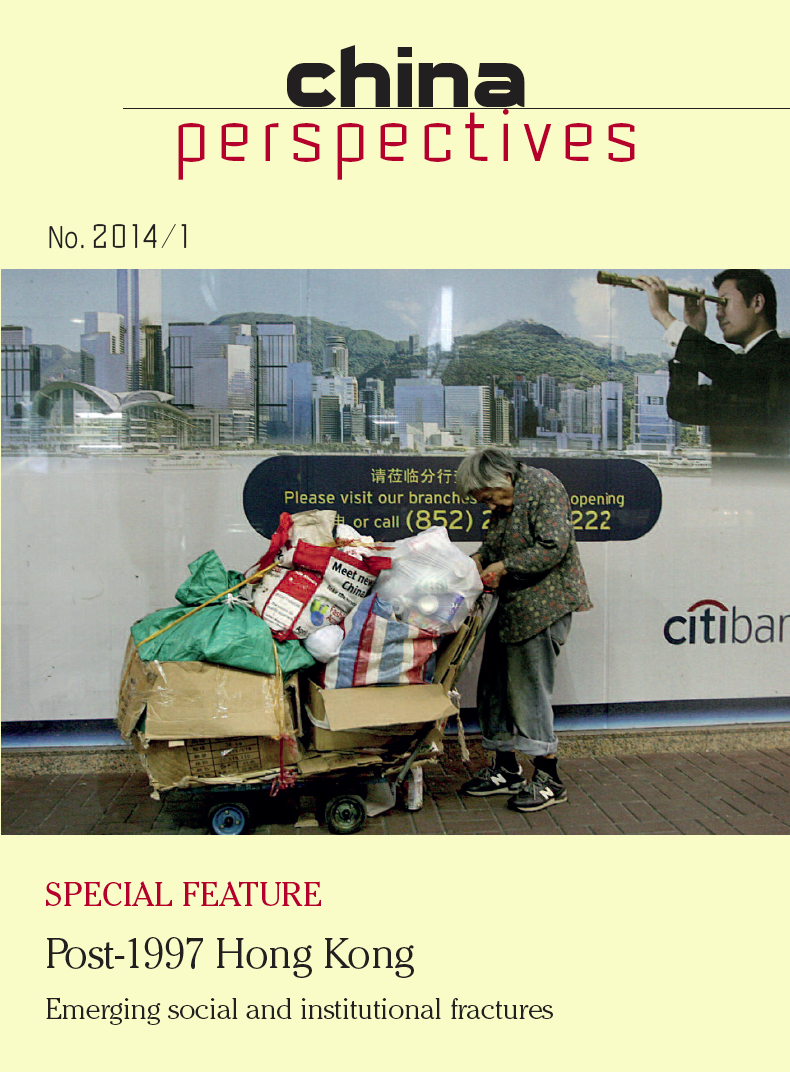 LUI, Tai-Lok, and Brian C.H. FONG. 2014. "Editorial." China Perspectives 1: 3-4. https://www.cefc.com.hk/article/editorial-29/
FONG, Brian C. H. 2014. "Executive-legislative Disconnection in Post-colonial Hong Kong: The dysfunction of the HKSAR's executive-dominant system, 1997-2012." China Perspectives 1: 5-14. https://www.cefc.com.hk/article/executive-legislative-disconnection-post-colonial-hong-kong-dysfunction-hksars-executive-dominant-system-1997-2012/
EE, Kim Ming, Benny Ho-pong TO, and Kar Ming YU. 2014. "The New Paradox of Thrift: Financialisation, retirement protection, and income polarisation in Hong Kong." China Perspectives 1: 15-24. https://www.cefc.com.hk/article/new-paradox-thrift-financialisation-retirement-protection-income-polarisation-hong-kong/#
KIT, Chan Chi. 2014. "China as 'Other': Resistance to and ambivalence toward national identity in Hong Kong." China Perspectives 1: 25-34.  https://www.cefc.com.hk/article/china-resistance-ambivalence-toward-national-identity-hong-kong/#
LUI, Tai-lok. 2014. "Fading Opportunities: Hong Kong in the context of regional integration." China Perspectives 1: 35-42. https://www.cefc.com.hk/article/fading-opportunities-hong-kong-context-regional-integration/#