Keywords

: anti-sexual harassment campaign, DNA database, pension funds, poverty reduction plan, Taiwan's Labor Standards Act.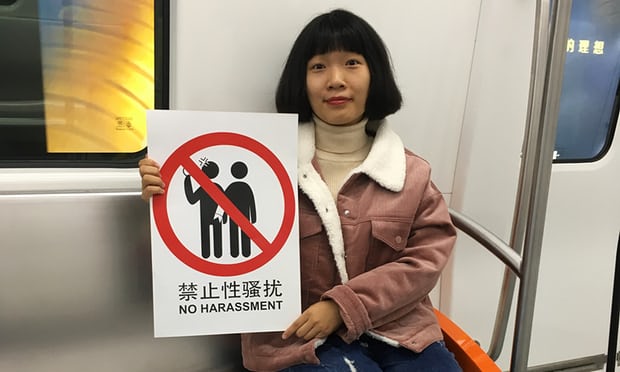 CHINA – SOCIETY
1. #MeToo campaign reaches China, inspiring thousands of women to stand up against sexual harassment

Although the #MeToo anti-sexual harassment campaign has been spreading the world through the circulation of the two-word hashtag on social media since October 2017, it has not reached China until very recently. On 8 January 2018, Luo Xixi, a former student at Beijing's Beihang University in 2000–2004 and now a US resident, has posted a statement with #MeToo on Weibo to accuse Chen Xiaowu, her former professor, for sexual harassment 14 years ago. Resulting from Luo's statement, Beihang University has now suspended Chen as well as set up a unit to investigate the case. Inspired by Luo's courageous act that went viral on the internet, college students from more than 30 Chinese universities have signed public petition letters demanding their university heads to "organize a special training on sexual harassment for all faculty and students, conduct an anonymous survey on sexual harassment among students every semester, set up a channel for students to report misconduct, and specify a person overseeing the issue" (The Diplomat, 10 January 2018). And subsequently, more and more women across the country have shared their experiences of sexual harassment, quickly localizing the #MeToo movement into #WoYeShi ( or #我也是). Despite the public support for the campaign from academics, journalists, and activists, the campaign nevertheless faced state crackdowns which have censored certain contents posted by victims on social media.
// In October, Chinese state media crowed over the Harvey Weinstein case, arguing that Chinese culture is superior to Western culture, that harassment doesn't happen here because men are taught to "protect" women, and that the authorities deal harshly with those who misbehave. The reality is quite different. Powerful perpetrators are habitually protected by the Chinese state, Ye said, while women's rights groups are treated with suspicion by the Communist Party, branded as agents of foreign interference. "As long as the Communist Party remains in power, it's arguable China will never be ready for a #MeToo movement," said Leta Hong Fincher, author of the forthcoming book "Betraying Big Brother: The Feminist Awakening in China." Abroad, the #MeToo movement has led to the downfall of many prominent men, including politicians. That's bound to make Chinese leaders nervous, said Fincher. Not only have some women's posts been censored on social media, but there has been none of the in-depth, investigative reporting by news media of the kind that brought down Weinstein in the United States. "There's no press freedom in China, and there's no rule of law, so it's extremely difficult for victims of sexual harassment to find justice of any kind," Fincher said. // Source: The Washington Post, 9 January 2018, https://www.washingtonpost.com/world/asia_pacific/chinese-women-reveal-sexual-harassment-but-metoo-movement-struggles-for-air/2018/01/08/ac591c26-cc0d-4d5a-b2ca-d14a7f763fe0_story.html?utm_term=.9fd246ebe8f9
//去年,好萊塢大製片人哈維·韋恩斯坦(Harvey Weinstein)性侵多名女星的新聞曝光後,演員艾莉莎·米蘭諾(Alyssa Milano)在推特上呼籲曾受性騷擾或性侵的女性在社交媒體分享自己的經歷,獲得全球各地大量女性響應。 據Hashtracking的統計,在過去一個月內有近190萬使用#MeToo的推文。 但在亞洲,#MeToo響應者寥。中國社交網絡上,羅茜茜的舉報可謂是首宗引發廣泛迴響的#MeToo行動。事態仍在發展當中,雖最終結果尚不明朗,但歐美網絡常見的連鎖效應,至今未有在中國網絡和社會上出現。 女性權益組織者認為,#MeToo在中國出現的形式,與西方有明顯差別。 平婦女權益機構共同發起人馮媛說:「中國的(#MeToo)行動與檢舉人,一開始就是舉報、要求懲處,更加有問責性。」[…]馮媛說,中國女性想要仿效羅茜茜、公開自己被侵害的經歷,門檻亦相對較高, 這同時也體現出制度缺位。 「無論是國家反性騷擾的法律,還是各個學校、單位都沒有反性騷擾的制度。一般女性沒有一定的凖備,她們的控訴可能就會石沉大海,沒人聽見。(檢舉)門檻高,反應慢或拖延時間,對受害者來說太不公平。」 「司法制度不完善難以為婦女討回公道,這是一方面。另一方面是各個機構沒有內部的性騷擾防治措施和流程,那些情節夠不上走法律程序的性騷擾事件,受害者也無從得到幫助和支持,肇事者輕易免掉被調查和處理。因此,靠社交媒體來引起重視、產生輿論壓力,從而進行問責。」 「但正因為這樣,我覺得站出來說的人很了不起,她們是開路者。」// Source: BBC中文網, 5 January 2018, http://www.bbc.com/zhongwen/trad/chinese-news-42577655
2. Shanghai's masterplan sets population limit to 25 million by 2035 in hope of curbing "big city disease" and playing a greater role in the Belt and Road Initiative

On 25 December 2017, the State Council has released a statement on its website to approve Shanghai's masterplan for 2017-2035. Following Beijing's plan to cap its population size to 23 million by 2020, Shanghai is similarly setting a target of 25 million by 2035, as an attempt to curb the so-called big city disease, which, as defined by state media, arises "when a megacity becomes plagued with environmental pollution, traffic congestion and a shortage of public services, including education and medical care" (Guardian, 26 December 2017). Furthermore, the city aims to play a greater role in the nation's Belt and Road Initiative as well as better integrate into the Yangtze River Delta city cluster. As a matter of fact, with a current population of over 24 million, Shanghai will need to strictly control its population growth in the next 17 years in order to meet its target. Critics are sceptical about the plan's feasibility, considering Shanghai has largely depended on migrant workers to maintain its status as China's financial hub. For example, Chen Youhua, a sociologist at Nanjing University, suggests that "curbing the population is unimaginable" since it would severely affect the city's prospect. Contrary to the critics' scepticism, Zhang Chewei, a demographer at Chinese Academy of Social Sciences, wrote that Shanghai's population will eventually stabilize because the city is becoming less attractive to migrant workers since its economy is slowing down and the income gap between regions is shrinking.
// 规划提出,要转变城市发展模式。坚持"底线约束、内涵发展、弹性适应",探索高密度超大城市可持续发展的新模式。牢牢守住人口规模、建设用地、生态环境、城市安全四条底线。缓解人口快速增长与资源环境紧约束之间的矛盾,严格控制常住人口规模,至2035年常住人口控制在2500万人左右。按照规划建设用地总规模负增长要求,锁定建设用地总量,控制在3200平方公里以内。把生态环境要求作为城市发展的底线和红线,锚固城市生态基底,确保生态用地只增不减。牢牢守住城市生产安全和运行安全底线,提高城市应急响应能力和恢复能力。加强历史文化风貌保护,坚持"整体保护、积极保护、严格保护"的原则,中心城区从拆改留转向留改拆,以保护保留为主,不断拓展保护对象体系。推动城市更新,更加关注城市功能与空间品质,更加关注区域协同与社区激活,更加关注历史传承与魅力塑造,促进空间利用集约紧凑、功能复合、低碳高效。应对未来经济发展和人口变化的不确定性,预留城市公共资源配置能力,建立空间留白机制,调控土地使用供应时序,为未来发展留足空间。// Source: 东方网, 5 January 2018, http://www.spcsc.sh.cn/n1939/n1944/n1945/n2300/u1ai158239.html
// 在接受香港文汇报记者采访时,著名经济学家宋清辉直言,此次,上海更加关注和强调"人"的需求,这也是"新总规"的重中之重,即"改变了以往的经济导向,转变为更加突出以人民为中心的价值导向。"同时,宋清辉表示,"新总规"还首次明确了上海的城市发展需要严守的"土地、人口、环境、安全"四条底线,并对上海周边城市带来一次历史性的发展机遇。不仅如此,近年来,上海、香港之间不断深化沟通交流机制,有力推动了两地更深层次的合作与发展。据清晖智库统计,目前香港已是上海外商投资最大来源地,投资规模占上海吸引外资的50%以上,其中服务业占香港来沪投资的95%以上。而此次"上海2035"的发布,宋清辉直言,在上海基本建成卓越全球城市的同时,加上香港这个上海企业"走出去"的重要"窗口"的助力,相信沪港商贸合作联动发展将会迈进纵深。// Source: Wen Wei Po, 13 January 2018, http://www.sohu.com/a/216232740_112589
[/tab]